Honey Hunt: Volume 2
By Leroy Douresseaux
June 30, 2009 - 19:27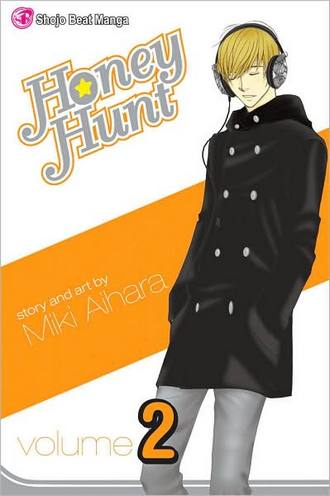 Honey Hunt Volume 2 cover image is courtesy of barnesandnoble.com.
Rated "T+" for "Older Teen"
17-year-old Yura Onozuka lives in the shadow of her parents, acclaimed actress, Yukari Shiraki, and award-winning composer, Takayuki Onozuka. When her celebrity parents get divorced, Yura is forced to step out on her own. With the help of her dad's manager, Keiichi Mizorogi, Yura embarks on her own acting career.
As Honey Hunt, Vol. 2 opens, Yura is in the midst of her first professional crisis – a stained costume. Because of Keiichi Mizorogi's efforts, Yura won her first leading role in the "Noodle Girl" campaign, a commercial and TV drama tie-in. Just after the director called everyone to the set to begin shooting the commercial, Yura discovered that someone had spilled hot chocolate on her blouse, and she literally only has minutes to solve this dilemma.
Yura also begins to develop a close friendship with young pop star, O-Ta Minamitani, but his twin brother, Haruka, also a pop idol, keeps getting in the way. Yura's insecurities, however, cause her to start wondering if these new opportunities in acting and the improvement in her social life are only happening because of who her parents are. Then, during a script reading, Yura faces off against an old rival of her mother's – the domineering actress Rinko Koizumi.
THE LOWDOWN: Not only is Honey Hunt an exceptional character drama, it's also a superb soap opera. Creator Miki Aihara presents the reader with Yura's dysfunctional family dynamic, places her star character in a highly convincing school setting, and then drops her besieged heroine into the hectic world of television production with its nerve-wracking auditions, dubious characters, and devious competitors. Aihara's pretty shojo manga art belies just how much back biting goes on in this story.
POSSIBLE: Readers who like backstage drama will love this dishy drama called Honey Hunt.
A
Last Updated: August 31, 2023 - 08:12