Grumble: Chapter Two - Page 9
By Leroy Douresseaux
June 14, 2015 - 08:43
«« First Comic « Previous Comic Archives RSS Feed Next Comic » Latest Comic »»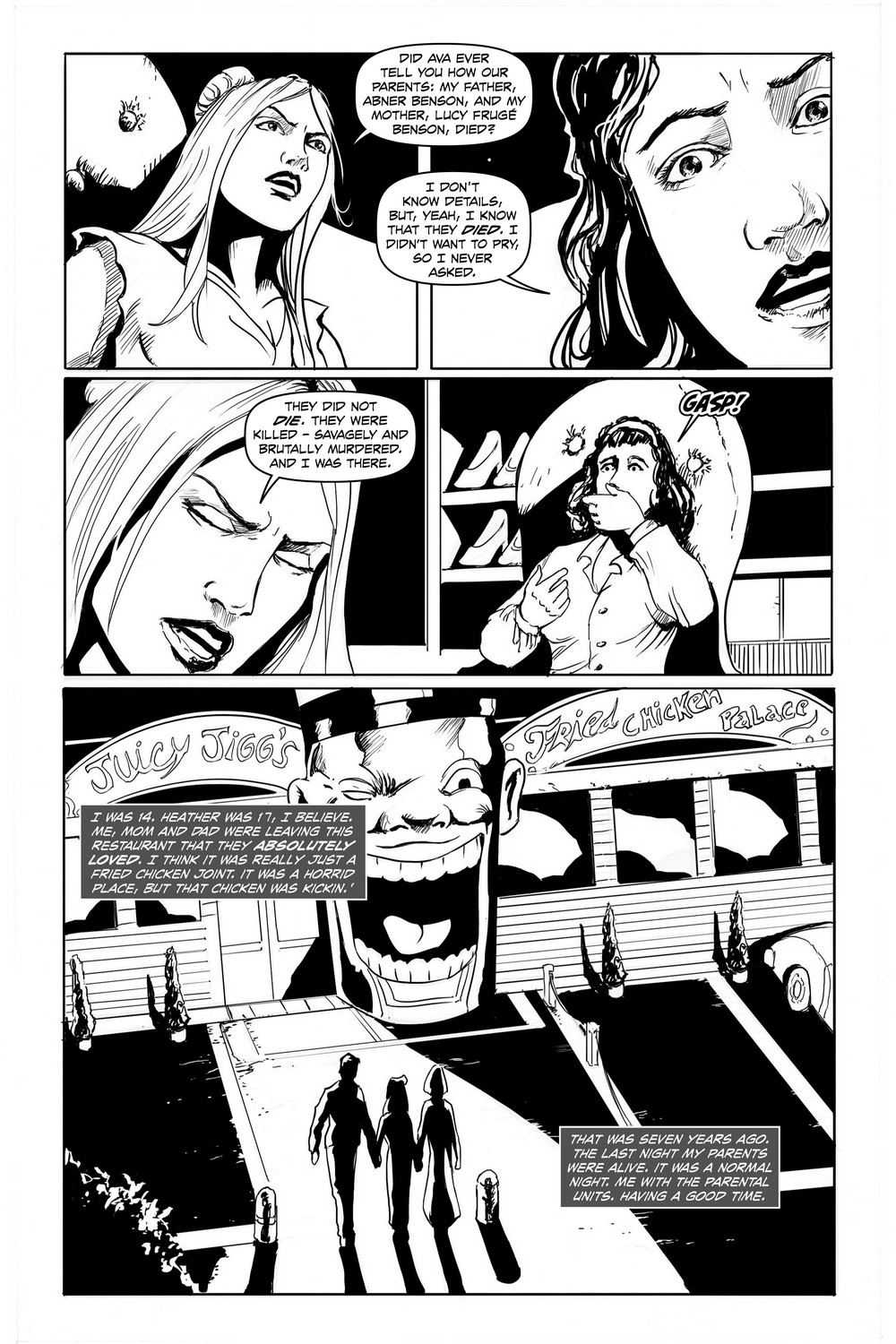 «« First Comic « Previous Comic Archives RSS Feed Next Comic » Latest Comic »»

NOTES ON GRUMBLE: CHAPTER TWO – PAGE 09:

The front or facade of "Juicy Jigg's Fried Chicken Palace" references the "Sambo," mammy," and "minstrel" images. These icons, of sorts, were the standard used to depict Black Americans in everything from cheap illustration and advertising art to fine art and corporate and product iconography. They were meant to stereotype by exaggerating perceived universal physical characteristics and common behavior associated with Black people.

I was shocked to discover, via a book on the subject, that for decades restaurants used "Sambo" and "minstrel" iconography as logos, trademarks, and identifiers. Some incorporated "Sambo" in their architecture, even to the very foundation and appearance of their restaurants. There were even chain and franchise restaurants that did this, including a chain that existed in and around Utah into the 1980s!

By the way, the beginning of the last panel should read: "I was 14. Ava was 17, I believe." It will be corrected at a later date.



------------------------

Publisher: Monster Comics
Writer: Leroy Douresseaux
Artist: Diego Candia
Letters/Production: Jaymes Reed

Monster Comics, in association with the Comic Book Bin, joins in the launch of Comic Book Bin Sunday Comics or, as I like to call it, "Bin Sunday Comics." We started with the first chapter of my dark fantasy and horror comic book, Grumble (a relaunch of sorts). Now, we move to Grumble: Chapter Two.

The story focuses on Ava Benson, a young woman who returns to her hometown following her beloved uncle's death. She finds the town under siege and a conspiracy brewing.

The story is written by Leroy Douresseaux. The art is drawn by Diego Candia. Letters and production are provided by Jaymes Reed of DigiCaps. Monster Comics logo by Doug Erb.

Last year, I printed some promotional copies of Grumble: Chapter One through a POD printer. I will sign and number a copy of this "rare" comic book for $5 post paid, which you can purchase here.

Grumble is copyright © 2015 by Leroy Douresseaux. Characters appearing in Grumble are copyright and TM Leroy Douresseaux.



Last Updated: May 18, 2020 - 11:53
Join the discussion: