Grumble: Chapter Two - Page 2
By Leroy Douresseaux
April 26, 2015 - 07:49
«« First Comic « Previous Comic Archives RSS Feed Next Comic » Latest Comic »»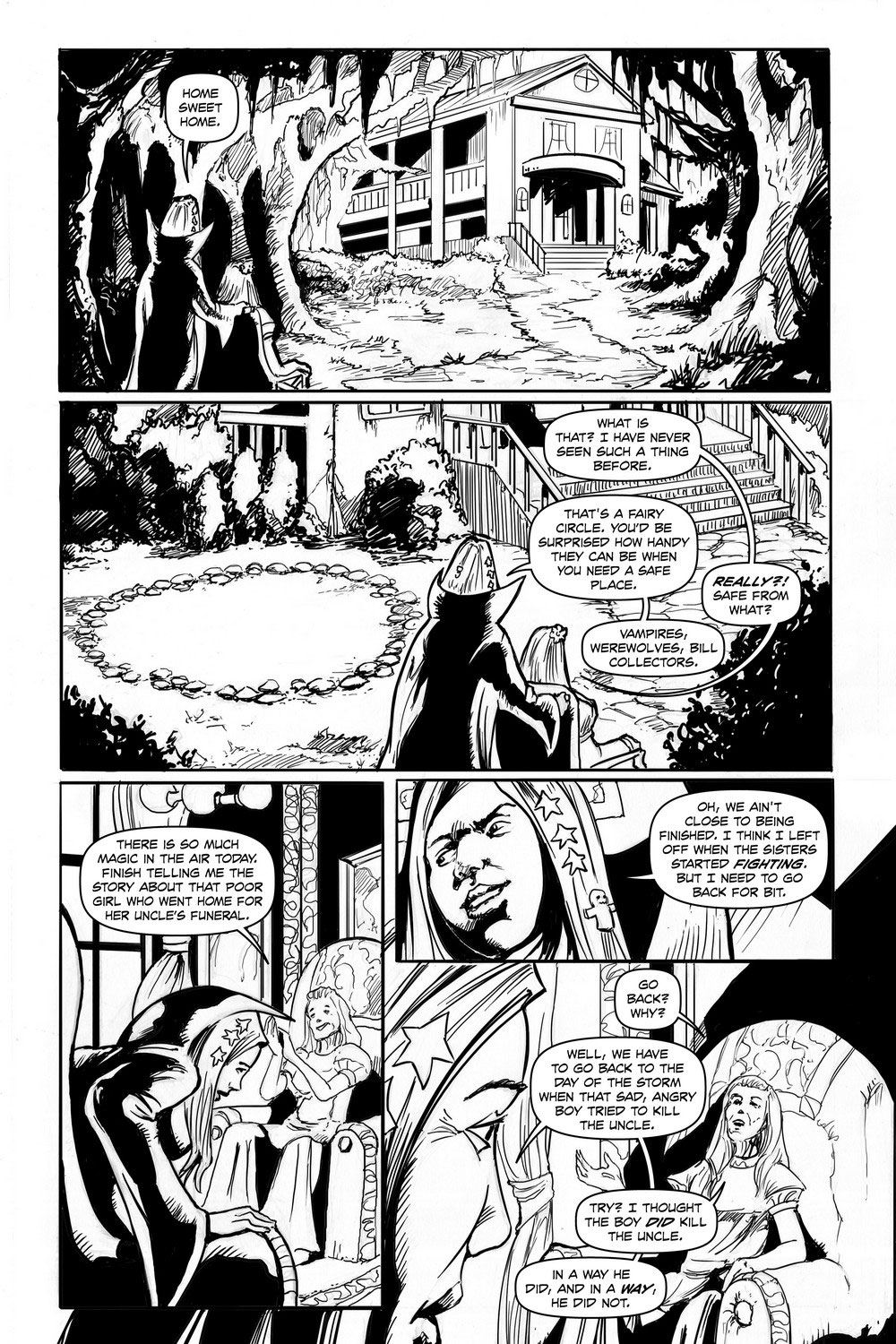 «« First Comic « Previous Comic Archives RSS Feed Next Comic » Latest Comic »»

NOTES ON GRUMBLE: CHAPTER TWO – PAGE 02:

This page is an homage to or references comics and movies that I remember fondly or have influenced me. The fairy ring refers to the one that appears in the 2013 film, Don't Be Afraid of the Dark (a remake of a 1970s TV movie).

The overall visual feel of the page recalls Alan Moore's Swamp Thing as drawn by the wonderful artists, Steve Bissette and John Totleben. When I am writing Grumble, I also think of the great EC Comics artist, Graham Ingels (don't call him "Ghastly"). That's it in a nutshell.

---------------

Publisher: Monster Comics
Writer: Leroy Douresseaux
Artist: Diego Candia
Letters/Production: Jaymes Reed

Monster Comics, in association with the Comic Book Bin, joins in the launch of Comic Book Bin Sunday Comics or, as I like to call it, "Bin Sunday Comics." We started with the first chapter of my dark fantasy and horror comic book, Grumble (a relaunch of sorts). Now, we move to Grumble: Chapter Two.

The story focuses on Ava Benson, a young woman who returns to her hometown following her beloved uncle's death. She finds the town under siege and a conspiracy brewing.

The story is written by Leroy Douresseaux. The art is drawn by Diego Candia. Letters and production are provided by Jaymes Reed of DigiCaps. Monster Comics logo by Doug Erb.

Last year, I printed some promotional copies of Grumble: Chapter One through a POD printer. I will sign and number a copy of this "rare" comic book for $5 post paid, which you can purchase here.

Grumble is copyright © 2015 by Leroy Douresseaux. Characters appearing in Grumble are copyright and TM Leroy Douresseaux.



Last Updated: May 18, 2020 - 11:53
Join the discussion: