Gestalt: Volume 6
By Leroy Douresseaux
April 19, 2010 - 15:32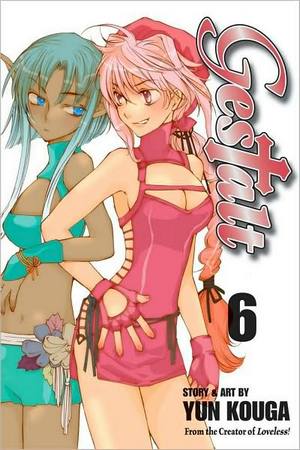 Gestalt Volume 6 cover image is courtesy of barnesandnoble.com.
Rated "T+" for "Older Teen"
In the myth of its creation, Salsaroa saw its gods battle for supremacy. One of those gods turned traitor, and people now consider him a demon god so feared that they call him "G," instead of by his name, "Gestalt." Some people still seek out G. One of them is Father Olivier, a priest of the Vasaria Order. He renounced his vow so that he could find G in hopes that the god would resurrect men close to Olivier.
Previously, Ouri the sorcerer/summoner, who made a great personal sacrifice in order to help Olivier, also had to leave the priest. In Gestalt, Vol. 6, Ouri returns to Olivier's side just in time fight Ender, chief of the fearsome Diamond Knight Guard, who was sent by the Vasaria Order to retrieve Olivier. However, Ouri's rivals and sisters, Tsukishiro and Takara, arrive to continue their "game" with their sister. They join the battle against Ender and things go from bad to worse.
Meanwhile, Shazan, the fortune teller who was once the knight, Lancelot, goes on his own journey to find The Book of P, which brings him into conflict with the book's guardian, Wings of Death. During their confrontation, Shazan learns that the entity's history is a complex one.
THE LOWDOWN: As creator Yun Kouga reveals more about the characters in Gestalt, the more intriguing they become. Mixing quest fantasy and violence with ensemble comedy and religious theme is certainly a recipe for disaster. So why is Gestalt so good at it? For one thing, Kouga is quite imaginative in the way she designs her pages. She can make a page look frilly and ornate, but that page can still convey a sense of foreboding. The cleverly constructed and pretty visuals make for good comic book storytelling and also make odd genre pairings seem perfectly normal.
POSSIBLE AUDIENCE: Readers looking for unique fantasy comics will want to give Gestalt a try.
A-
Last Updated: August 31, 2023 - 08:12