Gestalt: Volume 5
By Leroy Douresseaux
February 16, 2010 - 07:03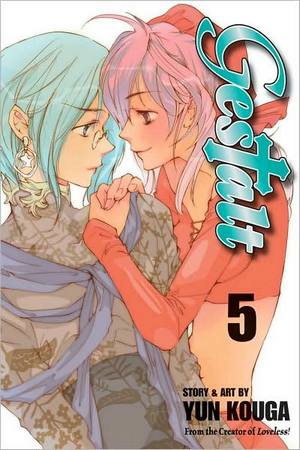 Gestalt Volume 5 cover image is courtesy of barnesnandnoble.com.
Rated "T+" for "Older Teen"
The myth of the creation of Salsaroa involves gods battling for supremacy. Legend has it that one of the gods turned traitor and is now considered a demon god, whom people fear so much that they call him "G," instead of his name, "Gestalt." Some people still seek out G, including Father Olivier, a priest of the Vasaria Order, who renounced his vow so that he could find G and discover the truth.
In Gestalt, Vol. 5, Olivier finally confronts his adoptive father and superior, Father Messiah, about his quest for G. Regardless of what Messiah decides, other forces in the Church of Vasariah want Olivier, and they're sending Ender, chief of the fearsome Diamond Knight Guard, to retrieve him. Also, Olivier gets new arms, but the cost changes everything.
THE LOWDOWN: I don't know if Gestalt will improve with each volume, but right now, it's an excellent read. Creator Yun Kouga has made what is essentially an epic fantasy slash road trip into an adventurous read full of surprising twists and turns. Gestalt is an under-the-radar winner waiting to bring joy to new readers.
POSSIBLE AUDIENCE: Readers looking for unique fantasy comics will want to give Gestalt a try.
A-
Last Updated: August 31, 2023 - 08:12