Gestalt: Volume 3
By Leroy Douresseaux
October 21, 2009 - 12:21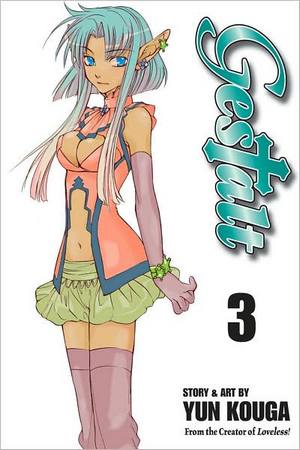 Gestalt Volume 3 cover image is courtesy of barnesandnoble.com.
Rated "T+" for "Older Teen"
The myth of the creation of Salsaroa involves eight gods and a god who turned traitor. The traitor is now considered a demon god and people fear him so much that they call him "G," instead of his name, "Gestalt." Some people still seek out G, including Father Olivier, a priest of the Vasaria Order, who renounces his vow so that he may find G and discover the truth.
In Gestalt, Vol. 3, Suzu, a female dark elf sent by Olivier's church to bring the priest home, continues her war against her two sisters, but now she may have obtained what she needs to defeat them and increase her own power. Meanwhile, Father Messiah of the Church of Vasariah, sends another agent, the mysterious Sakata, to retrieve Olivier. Finally, Olivier's dark alter ego, Black Olivier, unleashes a horrible fate on Olivier – one that forces Ouri, his first companion, to make a terrible choice.
THE LOWDOWN: Creator Yun Kouga has created a wide open fantasy in Gestalt, and she seems determined to fill all that narrative space with as many characters as she can. Some of these characters come across as extraneous, and they only get in the way of the core cast. With each chapter, Father Olivier and his companions become more endearing, and this chapter adds depth to a few of them. We finally get an origin story for Olivier, and the last third of this volume offers what is essentially an Ouri solo story; both of these stories make for good reading.
Yun Kouga's wiry drawing style gains depth, in part because of more toning, which adds texture and density to interior and night scenes. The backgrounds solidify and the environments and settings for this series become clearer, adding mass and depth to the overall narrative.
POSSIBLE AUDIENCE: Readers who like to be taken on the kind of long journey high fantasy offers may want to give Gestalt a try.
B+
Last Updated: August 31, 2023 - 08:12