Sony Releases DualShock 3 Controller
By Eli Green
April 2, 2008 - 21:35
At long last, Sony Computer Entertainment America (SCEA) has finally released the DualShock 3 controller for the Playstation 3. A feat which the company had originally
claimed to be impossible because it would cause interference between the wireless and motion sensing technologies in the controller, has been accomplished and the
rumble-enabled controller is now available in stores across North America, with SIXAXIS still enabled. Of course, no one would have been skeptical about the SIXAXIS' lack of rumble in the first place, had Nintendo not already had all of the same features in the Wii Remote when those announcements were made. Other foolish comments followed, including a favourite from former SCE Worldwide Studios president, Phil Harrison, in which he called rumble a "last generation feature". And let's not forget Immersion's lawsuit over patented rumble technology.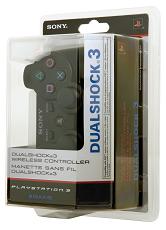 Today however, things are a little different, and most people have either forgotten about all of that, or simply relegated it to the back their minds, looking forward to a future with rumble-enabled PS3 games. A number of new and currently available titles will be DualShock 3 compatible, as well as some PS one classics which are already available. Some may require a software update before that feature works, though. The DualShock 3 controller is available for $54.99 USD and CAD. Sony will begin packaging it with Playstation bundles beginning this June, when it releases the new limited 80GB Playstation 3, which will include

Metal Gear Solid 4: Guns of the Patriots

. That bundle will be available for $499.99 USD and CAD.
The full list of DualShock 3 compatible games will soon be available at us.playstation.com.
Last Updated: August 31, 2023 - 08:12