Fantagraphics Bookstore Goes MAD with Bill Schelly
By The Editor
April 1, 2015 - 20:51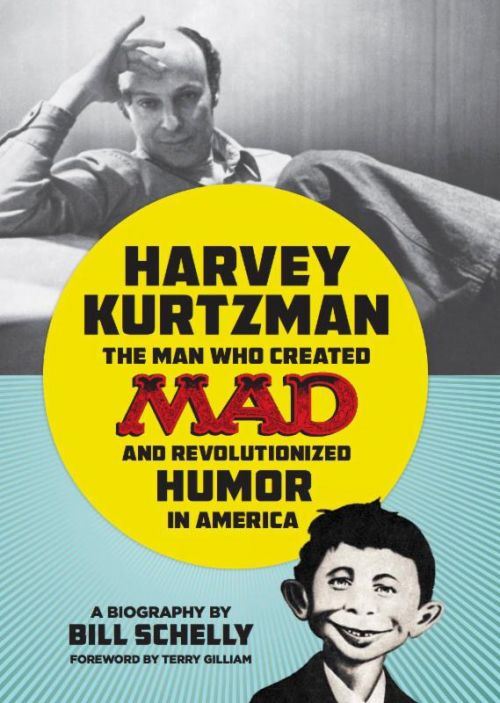 Harvey Kurtzman: The Man Who Created MAD... cover image
Billy Schelly Goes MAD!
Fantagraphics Bookstore & Gallery
welcomes comics scholar and author Bill Schelly on Saturday, April 11 as he presents his new biography
Harvey Kurtzman: The Man Who Created Mad and Revolutionized Humor in America
. Schelly will give an entertaining and informative slide talk on the illustrious career of one of the pivotal figures in American popular culture. A book signing will follow the presentation.
Harvey Kurtzman wrote, edited and drew popular titles like Two-Fisted Tales and Frontline Combat for notorious publisher EC Comics. In a departure from their lurid line of crime and horror comics, Kurtzman created the satirical Mad in 1952. EC Comics soon fell victim to the hysterical crusading of politicians, child psychologists and religious zealots when the Comics Code Authority effectively banned most of their titles. Kurtzman's Mad persevered, and ironically became the instrument that indoctrinated an entire generation in the principle of art in the service of degenerate discourse - laying the foundation for the cultural upheaval of the 1960s.
Kurtzman's many contributions to midcentury American humor are explored at length by Schelly, with insightful interviews of Kurtzman collaborators like Hugh Hefner, Al Feldstein, James Warren, R. Crumb, Jack Davis, Gilbert Shelton, and more. Episodes like the FBI investigation during the McCarthy Era and his litigation with EC publisher Bill Gaines are detailed for the first time.
Don't miss the debut of this amazing publication with a slide talk, exhibition and book signing on April 11 from 6:00 to 9:00 PM. This event coincides with the colorful Georgetown Second Saturday Art Attack featuring visual and performing arts presentations throughout the historic neighborhood.
Mark your calendars for the return of incomparable cartoonist Daniel Clowes on Saturday, April 18 with the world premiere of The Complete Eightball, followed a week later by provocative Seattle artist Josh Simmons on April 25.
Listing information:
Bill Schelly presents Havey Kurtzman: The Man Who Created Mad
Slide talk, exhibition, and book signing
Saturday, April 11, 6:00 to 9:00 PM
Fantagraphics Bookstore & Gallery
1201 S. Vale Street
Seattle, WA 98108 | 206.658.0110
Open daily 11:30 to 8:00 PM, Sundays until 5:00 PM.
Last Updated: August 31, 2023 - 08:12