Fantagraphics Bookstore Has Daniel Clowes
By The Editor
April 8, 2015 - 12:32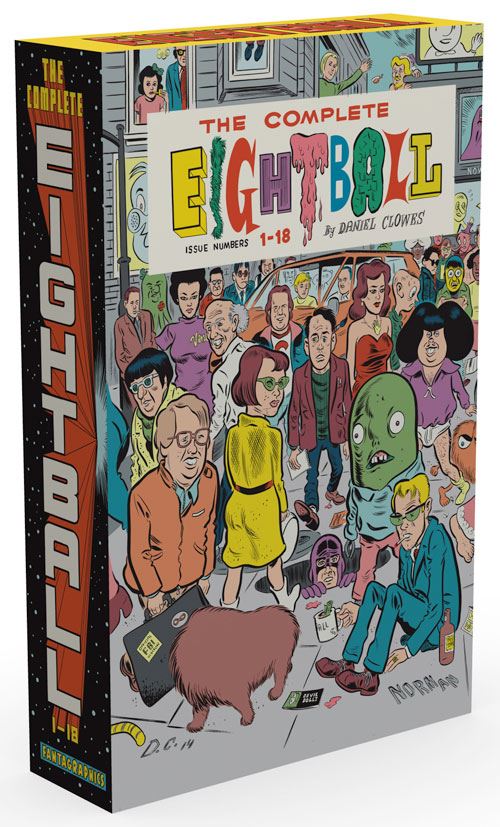 The Complete Eightball box set 3D image view
Daniel Clowes Returns!
Fantagraphics Bookstore & Gallery is pleased to host the return engagement of one of America's most influential artists, Daniel Clowes. His cynical satires of popular culture in the pages of the wildly popular Eightball comic book series helped define the attitudes and aesthetics of an entire generation. His appearance in Seattle on Saturday, April 18 marks the global debut of The Complete Eightball 1-18. Clowes will be available to sign a limited number of advance copies of this collection as well as other publications from 6:00 to 8:00 PM.
Clowes' meticulously rendered artwork and cinematic narratives set a standard for the alternative comix movement. Eightball comics combined long form stories spanning multiple issues with wickedly funny invectives of contemporary culture. The early issues included Like a Velvet Glove Cast in Iron, a mysterious excursion into madness that set the stage for his later effort, Ghost World. This stunning story was adapted into the feature film of the same name and became a generational touchstone while earning Clowes an Oscar nomination for best screenplay adaptation. Equally appealing are Clowes' clever observations of the human condition including "Message to the People of the Future," "Paranoid," "My Suicide," "Chicago," "Art School Confidential" and many more.
Fantagraphics Books celebrates the 25th anniversary of its publication with a deluxe two-volume slipcase set that authentically recreates the original layout of this iconic comic book series. Don't miss this rare opportunity to meet this extraordinary artist and the debut of the exceptional Complete Eightball collection.
Listing information:
Daniel Clowes presents The Complete Eightball 1 - 18
Saturday, April 18, 6:00 to 8:00 PM
Fantagraphics Bookstore & Gallery
1201 S. Vale Street
Seattle, WA 98108 | 206.658.0110
Open daily 11:30 to 8:00 PM, Sundays until 5:00 PM.
Last Updated: September 6, 2021 - 08:15