Fantagraphics Books Announces BIG BITCH Animation
By The Editor
April 15, 2015 - 21:47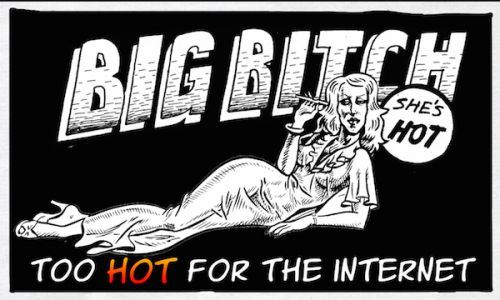 BIG BITCH Episode 2
Spain Rodriguez Gets Animated with BIG BITCH

Just when certain international problems seem intractable, a group of women artists has created a ribald, animated, feminist warrior hero to kick ass on the world stage.
BIG BITCH is a ruthless adventuress created by beloved underground cartoonist Spain Rodriguez. Spain died of cancer in 2012. Now Susan Stern, an investigative reporter turned Emmy-nominated filmmaker, and Spain's wife of 33 years, has teamed up with French artist Laure Boin and Los Angeles animator Katherine Bianca Clark to reimagine BIG BITCH, and bring her back in an animated web series.
BIG BITCH Comics goes live at 9 am EST April 16th — on YouTube (https://www.youtube.com/channel/UCCQRQ9-NSbhghGhBx85ybgw), Vimeo (https://vimeo.com/channels/892866) and at bigbitchcomics.com. And she is wrangling a Pussy Posse – fully outfitted with membership cards and lingerie – to help her set the world right.
"People are asking why I am bringing back BIG BITCH and why now?" said Stern. "I guess it's a reflection of my frustration and despair about world events. So many problems seem intractable. I needed a way to laugh about them. I needed to imagine some crazy solutions."
BIG BITCH Episode 1: The Freelancer, Ms. B has fun with both HBO and ISIS. In BIG BITCH Episode 2: Jerusalem Pussy Posse Her Bitchness mixes it up with ultra-religious Israeli settlers and lingerie.
"What we are doing is scary," said Stern. "We were just beginning production when the Charlie Hebdo attack happened in Paris. But we think it's important to shake things up. In a lot of ways, media is tamer than in the '60s. We are making BIG BITCH in the spirit of underground comics."
Spain always said that BIG BITCH was less popular than Trashman, his other main character, a '60s street fighting hero. But we feel that BIG BITCH was just ahead of her time when Spain first penned her in the 1980s. The Bitch is a freelancer, an entrepreneur – arguably the superhero of our time. She's apolitical and amoral. She's a gun for hire to the highest bidder -- as long as they don't step on her stilettos. If they do, "Don't fuck with BIG BITCH," may be the last words they hear.
Follow BIG BITCH Comics:
Web: bigbitchcomics.com
Facebook: facebook.com/BBcomicsSpain
Twitter: @BIGBITCHComics
Instagram: @BIGBITCHComics
Last Updated: September 6, 2021 - 08:15