"Unseen Peanuts," Charles Schulz Exhibition to Open
By The Editor
November 9, 2007 - 08:45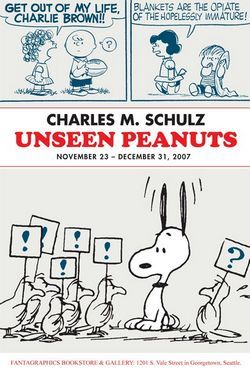 Image of card announcing the event.
Fantagraphics Bookstore & Gallery Proudly Presents "UNSEEN PEANUTS," an Exhibition of Rarely Seen Works by Charles M. Schulz Opening November 23
"It's no stretch at all to say that Charles Schulz was the most popular and successful American artist who ever lived." — Charles McGrath, New York Times
Perhaps no American artist is more closely associated with the holidays than Peanuts creator Charles M. Schulz. Fantagraphics Bookstore & Gallery, in association with the Charles M. Schulz Museum and Research Center, celebrates the holiday season with "Unseen Peanuts," a display of little known works by this incomparable master of the comic strip medium. The exhibition opens on Friday, November 23 and continues through December 31, 2007.
Charles Schulz, who wrote and drew every single Peanuts strip from its launch in 1950 to shortly before his death in 2000, remains among the most compelling figures in American popular culture. He is the subject of the current "America Masters" PBS documentary "Good Ol' Charles Schulz" and a new biography, Schulz and Peanuts by David Michaelis. Seattle-based Fantagraphics launched the ambitious, best-selling Complete Peanuts project, now in its 8th volume, in early 2004.
For those who wonder how a Peanuts strip might have been "unseen," Kim Thompson, co-editor of the Complete Peanuts series, points out that even though Peanuts is the most-reprinted comic strip in history, several thousand strips had never been collected until The Complete Peanuts project. "Many probably just fell through the editorial cracks," Thompson comments, "but some of these strips were clearly 'lost' as a result of editorial decisions and it's pretty fascinating to try to figure them out."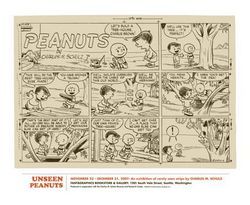 Above is an image of the limited-edition silkscreen print.
The "Unseen Peanuts" exhibition showcases nine of these "lost" strips, including two giant Sundays, provided by the Charles M. Schulz Museum in Santa Rosa, CA. These works offer a unique glimpse into the artist's technique and creative process. The show includes a companion 32-page "Unseen Peanuts" comic book catalogue featuring over 150 more of these "lost" strips. This fully annotated publication is available for free with any purchase exclusively at Fantagraphics Bookstore & Gallery. Also, Fantagraphics Books and the Charles M. Schulz Museum and Research Center have produced a limited-edition silkscreen Peanuts print that will be available exclusively at the Fantagraphics Bookstore & Gallery while supplies last (pictured below). "Unseen Peanuts" opens with a daylong preview on Friday, November 23 (the day after Thanksgiving) from 11:30 until 8:00 PM, highlighted by an "Unseen Peanuts" slide presentation by Kim Thompson at 6:00 PM.

The public of all ages is invited to this free event.
Fantagraphics Bookstore & Gallery is located at 1201 S. Vale Street in Seattle's historic Georgetown arts community. Now entering its second year, this lively space has firmly established itself as the hub of the Northwest's internationally recognized cartooning and graphic arts milieu. The gallery is open daily 11:30 to 8:00 PM, Sundays until 5:00 PM.
Listing Information:
WHAT: "Unseen Peanuts" by Charles M. Schulz
WHEN: November 23 – December 31, 2007
Public preview Friday, November 23, 11:30 – 8:00 PM
"Unseen Peanuts" presentation by Kim Thompson at 6:00 PM
WHERE: Fantagraphics Bookstore & Gallery
1201 S. Vale Street (at Airport Way S.)
Seattle, WA
206.658.0110
Free admission
Hours: Open daily 11:30 – 8:00 PM, Sundays until 5:00
www.fantagraphics.com/bookstore.html
Last Updated: August 31, 2023 - 08:12