Red Sonja #32 Continues BIG Event
By The Editor
February 7, 2008 - 04:23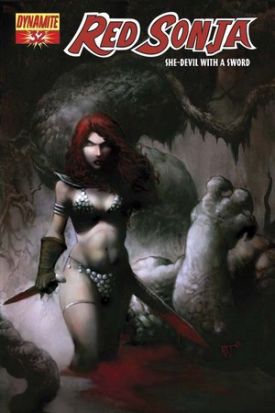 Nat Jones cover
A TALE OF "DARK SONJA" BY JOSHUA ORTEGA AND FABIANO NEVES
The She-Devil in March Continues Dynamite All Star Event
Dynamite Entertainment has released images and information concerning the March release of Red Sonja #32 and the next BIG Red Sonja event that features five dynamite all star writers creating a tale leading into the next big storyline! For issue #32, Dynamite has paired Death Dealer scribe Joshua Ortega with the Dynamite fan favorite artist of Xena and Marvel Zombies vs. Army of Darkness, Fabiano Neves!
Red Sonja #32 is scheduled for a March release and will feature a cover by Nat (Death Dealer) Jones, as well as alternates by Fabiano Neves and Adriano Batista!
Beginning with issue #30 (and a cover by Alex Ross), Red Sonja is featuring a new, different and special creative team each and every month as the she-devil heads towards issue #35. Each issue in this special event is a great jumping on point for new readers! The special event includes the pairings of Christos Gage with one of the most extraordinary artists of Marvel's Golden Age of horror, Pablo Marcos! Ron Marz and artist Lee Moder! Red Sonja veterans Luke Lieberman and Homs! And the return of Mel Rubi with new series writer Brian Reed!
In Red Sonja #32, writer Joshua Ortega and artist Fabiano Neves continue to explore the world of the She-Devil as she makes her way down the river Styx en route to Hades itself! Ortega spins a dark tale of the path Sonja could have taken, under the guidance of the Dark God! It's the ultimate "what if" tale of Dark Sonja!
RED SONJA #32 (JAN083509) Writer: JOSHUA ORTEGA; Penciller: FABIANO NEVES; Covers: NAT JONES (50%), ADRIANO BATISTA (25%) and FABIANO NEVES (25%)
For art and more information please visit: http://www.dynamiteentertainment.com/htmlfiles/p-C109468.html
Dynamite plans to have incredible support for this release with house ads, Diamond Previews Ads, online ads through news websites, as well as prints ads in Comic Shop News!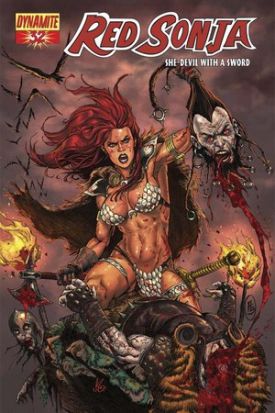 Adriano Batista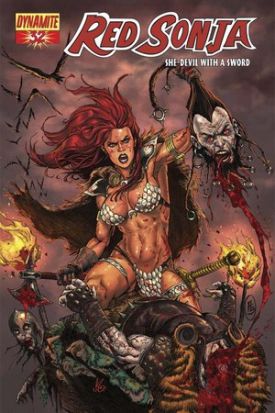 Adriano Batista
Last Updated: August 31, 2023 - 08:12