D•N•Angel: Volume 13
By Leroy Douresseaux
December 21, 2009 - 09:20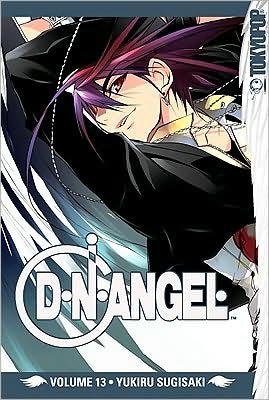 D N Angel Volume 13 cover image is courtesy of barnesandnoble.com.
Fantasy/Romance; Rated "T" for "Teen-Age 13+"
Fourteen-year-old Daisuke Niwa was in love with Risa Harada, but whenever he was near her, a genetic condition caused him to transform into the infamous phantom thief, Dark. Although Daisuke declared his love to her, Risa rejected him in favor of Dark, who also shows up whenever Daisuke is in trouble. Satoshi Hiwatari, who goes to the same middle school as Daisuke, can transform into Dark's enemy, Krad. Daisuke and Satoshi belong to families that have been fighting each other for centuries: Daisuke to the Niwa family of thieves and Satoshi to the Hikari family of artists.
As D•N•Angel, Vol. 13 opens, Daisuke and Satoshi have infiltrated a trap-filled, crumbling tower fortress to rescue Risa from Argentine, the mysterious figure hunting Dark. Before the battle is joined, however, Satoshi reveals to Daisuke the history behind the Hikari/Niwa curse.
THE LOWDOWN: Being unfamiliar with D•N•Angel, I was reluctant to start reading it when I received a review copy of Vol. 12. Having a grasp of the series made reading Vol. 13 much easier… and much more enjoyable. In fact, Vol. 13 is an excellent jumping on point for new reader because it offers some background details and history of the series' internal mythology.
Creator Yukiru Sugisaki composes her art in large panels (in a style similar to what artist Ayato Sasakura uses for Shakugan No Shana), drawing in a wide open anime-like style. This graphic storytelling technique gives the art a sense of movement that carries the reader along with the story's action in a way that ensnares the reader's attention. As a read, D•N•Angel is a nice trap.
POSSIBLE AUDIENCE: Part shojo and part shonen, D•N•Angel will appeal to teens who like fantasy and romance that isn't romantic fantasy.
B+
Last Updated: August 31, 2023 - 08:12