Comics / Comic Reviews / DC Comics
Dark Knight III: The Master Race #8 comics review
By Leroy Douresseaux
April 10, 2017 - 20:37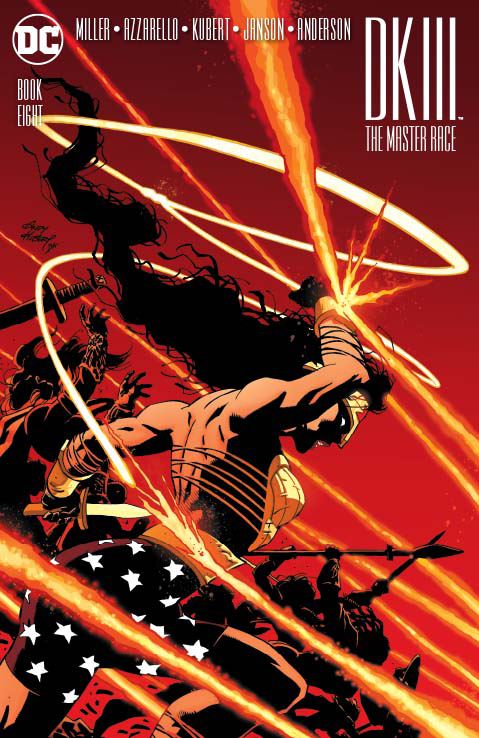 Dark Knight III: The Master Race #8 cover image
Batman created by Bob Kane with Bill Finger
Dark Knight III: The Master Race
(also known as DKIII) is a nine-issue Batman comic book event miniseries. It is the second sequel to
Batman: The Dark Knight Returns
(also known simply as The Dark Knight Returns or DKR), the 1986 four-issue comic book miniseries written by
Frank Miller
and drawn by Miller (pencils) and
Klaus Janson
(inks). DKR focuses on a 50-year-old
Bruce Wayne
who comes out of retirement to resume fighting crime as
Batman
.
DKIII is written by
Brian Azzarello
and Frank Miller; drawn by
Andy Kubert
(pencils) and Klaus Janson (inks); colored by
Brad Anderson
; and lettered by
Clem Robins
. DKIII finds Batman united with
Superman
to stop a murderous group of people from Superman's home planet, Krypton, from taking over the Earth.
Dark Knight III: The Master Race

#8
opens with the new
Batgirl
(Carrie Kelley) witnessing the seeming death of Batman. However, Superman placed Batman's body in a Lazarus Pit, and now Bruce Wayne is not only alive, but young again. Meanwhile, the "master race" of Kryptonians from the Bottled City of Kandor invade the home of
Wonder Woman
's and the
Amazons
(an island now called "
Amazonia
"). The Kryptonians are sure that they will win their fight with the Amazons, but Wonder Woman and her people have something that can match the Superman-like powers of a master race.
THE LOWDOWN:
After much criticism and complaining about DKIII (with only scattered praise), I have to admit that I think that DKIII #8 is not only the best issue of the series, but it is also a truly good comic book. DKIII has been wildly inconsistent, but DKIII #7 and #8 move the narrative forward more powerfully than a locomotive.
I don't think... No, I know that I have not had this much fun reading the other issues of DKIII as I had reading #8, although #7, as I've said, is quite good. Wonder Woman in full battle mode is a beautiful thing, and of course, this story barrels forward because #8 is the penultimate issue (although it was originally intended to be the last issue). Of note, a younger Bruce Wayne adds fuel to the rumors that many more series set in the DKR universe are to come.
Dark Knight Universe Presents: Detective Comics #1 (Insert comic book)
STORY: Frank Miller and Brian Azzarello
PENCILS: Frank Miller
INKS: Klaus Janson
COLORS: Alex Sinclair
LETTERS: Clem Robins
COVER: Frank Miller with Alex Sinclair
I have not really enjoyed these mini-comics inserted into the center of each issue of DKIII, but I did like DKIII #7's"Strange Adventures," which focuses on Green Lantern and two denizens of Thanagar. This issue's "Detective Comics" insert is the best of the lot, thus far, and is Frank Miller's best work as an artist for these inserts. This insert also features some familiar characters and story elements that first appeared in DKR, and that makes me happy. Plus, this is "To be continued..."
I READS YOU RECOMMENDS:
Fans of Batman will want to try
Dark Knight III: The Master Race
.
A
Rating: A /10
Last Updated: February 5, 2023 - 09:06