Comics / Comic Reviews / DC Comics
Dark Knight III: The Master Race #7 comics review

By Leroy Douresseaux
February 9, 2017 - 22:56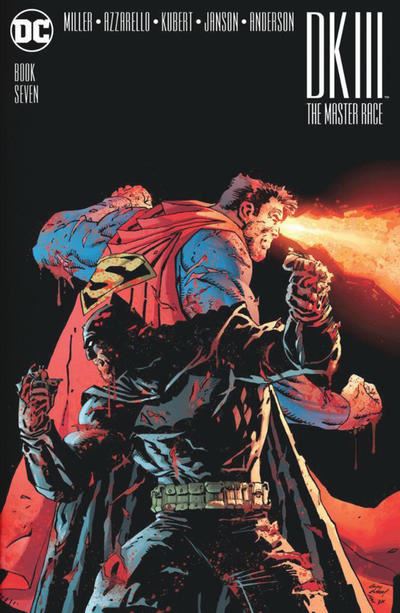 Dark Knight III: The Master Race #7 cover image
Dark Knight III: The Master Race
(also known as DKIII) is the second sequel to
Batman: The Dark Knight Returns
(also known simply as The Dark Knight Returns or DKR), the landmark, four-issue comic book miniseries. Published by DC Comics in 1986, DKR was written by
Frank Miller
; drawn by Miller (pencils) and
Klaus Janson
(inks); colored by Lynn Varley; and lettered by John Costanza. DKR focused on a 50-year-old Bruce Wayne who comes out of retirement and resumes his crime-fighting role as Batman.
DKIII is written by
Brian Azzarello
and DKR's Frank Miller; drawn by
Andy Kubert
(pencils) and DKR's Klaus Janson (inks); colored by
Brad Anderson
; and lettered by
Clem Robins
. DKIII finds Batman united with Superman to stop a murderous group of people from Superman's home planet, Krypton, from taking over the Earth.
Dark Knight III: The Master Race

#7
opens in the aftermath of the battle in and over Gotham City, pitting Batman, Superman, and their allies against the "master race" of Kryptonians from Kandor. And Batman is dead... or is he? Superman has an idea about reviving his old friend. Meanwhile, Quar, the leader of the Kryptonians, moves to strengthen his hold on Lara, the daughter of Superman and Wonder Woman, who has sided with the Kryptonians. He wants her to do something for him...
THE LOWDOWN:
I have to say that I enjoyed reading DKIII #7 more than I did issue #6. I have found DKIII to be wildly inconsistent. It is sometimes intense and gripping; other times, it is contrived and ridiculous – often within the same issue.
What is the difference with #7? I think that this issue consolidates subplots and relationships, as the narrative prepares to move into the final acts of the series. This issue is the first one that clearly depicts Lara's ambivalence, but also emphasizes that much of this story is about Lara's side of the family, in particularly her father, Superman. Going forward as a reader, an issue like this one makes me feel more confident about the eight and ninth issues of Dark Knight III: The Master Race, the final two issues.
Dark Knight Universe Presents: Strange Adventures #1
(Insert comic book)
STORY: Frank Miller and Brian Azzarello
PENCILS: Frank Miller
INKS: Klaus Janson
COLORS: Alex Sinclair
LETTERS: Clem Robins
COVER: Frank Miller with Alex Sinclair
I have not really enjoyed these mini-comics inserted into the center of each issue of DKIII, but I like this issue's "Strange Adventures" that focuses on
Green Lantern
and two denizens of Thanagar. The interplay of the items that give these heroes their power with the mounting danger of their adversaries makes this a gripping mini-thriller with a nice ending.
I READS YOU RECOMMENDS:
Fans of Batman will want to try Dark Knight III: The Master Race.
A-
Rating: A- /10
Last Updated: February 5, 2023 - 09:06