Amy Adams - "Enchanted," Disney Flick? Not So Much (2008 Oscar Nominee)
By Leroy Douresseaux
April 26, 2008 - 13:43
Enchanted (2007)
Starring: Amy Adams, Patrick Dempsey, James Marsden, Susan Sarandon, Timothy Spall, Idina Menzel, Rachel Covey, Tonya Pinkins, and Isaiah Whitlock, Jr.
DIRECTOR: Kevin Lima
WRITER: Bill Kelly
PRODUCERS: Barry Josephson and Barry Sonnenfeld
GENRES: Fantasy, Animation, Comedy, Family, Musical
RATING: MPAA – PG for some scary images and mild innuendo
DISTRIBUTOR: Walt Disney Pictures
What would happen if fairy tale characters that were like those in such classic Walt Disney feature animated films as Cinderella and Sleeping Beauty entered the gritty, urban real world where there aren't always happy endings – certainly not of the variety found in many fairy tales? Disney's recent motion picture, Enchanted, a mixture of 2D animation and live action, answers that question. While Enchanted lacks the magic that makes many Disney animated films so beloved and memorable, it does have one bit of excellent magic – the charming Amy Adams as its star.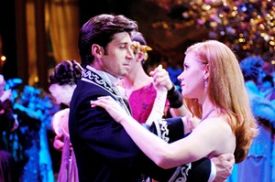 What does she see in him? Dempsey and Adams
Princess-to-be Giselle (Amy Adams) lives a perfect life in the wonderful, musical, fairy tale (animated) kingdom of Andalasia, and that charmed life gets even better when Prince Edward (James Marsden) arrives on his white steed to carry her off, marry her, and make her Princess Giselle. Giselle's dreams come to an abrupt end when the evil Queen Narissa (Susan Sarandon), Edward's vile stepmother, exiles her to the cold, cruel, real world of New York City, where the naïve girl finds it difficult to get her bearings. Her rescuers arrive in the unlikely form of a cynical and divorced, divorce lawyer, Robert Philip (Patrick Dempsey), and his lonely young daughter, Morgan (Rachel Covey). Giselle soon falls in love with Robert, who is already more or less engaged to another woman, so Giselle has to wonder if her storybook view of romance can win a man in the real world.
Meanwhile, Edward has followed Giselle to NYC, so Narissa sends her henchman, Nathaniel (Timothy Spall), to keep Edward from finding and reuniting with Giselle. However, if you want something done right, you have to do it yourself, so Narissa blows her way into our world determined to put an end to Giselle once and for all.
Anyone familiar with Amy Adams' from her other movie appearances already knows that she is enchanting. She is magical in Enchanted, and makes this clunky, nicely conceived, but poorly executed concept worth watching. In creating her character, Giselle, Adams gives flesh and substance to the idea of the beloved "Disney Princess," and personifies the utterly captivating charm and winning personality of a Cinderella or Sleeping Beauty. Plus, she's a good singer whose bubbly exuberance gives Enchanted's Alan Menken/Stephen Schwartz songs some needed bounce. Adams makes the Oscar-nominated "Happy Working Song" seem like it popped out of Disney's Beauty and the Beast, and she turns "That's How You Know" into a remarkable and memorable love song in its own right.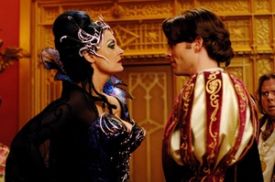 Wicked stepmother and royal son. Sarandon and Marsden.
On the other hand, practically everything else about this film, directed by Kevin Lima (who co-directed Disney's 1999 animated feature, Tarzan) is mediocre. It would be ironic to say that the dreadful Patrick Dempsey is perfectly cast as the dull and cynical Robert, but maybe the script didn't mean for the character to be as grey and colorless as the inexplicably popular Dempsey makes him. Sadly, the overrated Dempsey means that the thoroughly talented James Marsden (X-Men, Hairspray) gets less screen time, which is a pity. Marsden makes the most out of a poorly developed character and turns the saccharine ditty, "True Love's Kiss," into a fun song.
The great Susan Sarandon is also under-utilized, and her Narissa never reaches the heights of evil that she should, in spite of Sarandon's best efforts. No, Disney's Enchanted is a misfire. Perhaps, the film did indeed have a fairy godmother, but the only magic she gave Enchanted was the delightful Amy Adams.
C+
2008 Academy Awards: 3 nominations for three songs by Alan Menken (music) and Stephen Schwartz: "Happy Working Song," "So Close," and "That's How You Know"
Last Updated: March 10, 2022 - 22:00