American Gangster (2008 Oscar Nominee)
By Leroy Douresseaux
June 1, 2008 - 13:28
American Gangster (2007)
Starring: Denzel Washington, Russell Crowe, Chiwetel Ejiofor, Josh Brolin, Lymari Nadal, Ted Levine, Roger Guenveur Smith, John Hawkes, RZA, Ruby Dee, Ruben Santiago-Hudson, Carla Gugino, Cuba Gooding, Jr., Armand Assante, Idris Elba, Common, Warner Miller, Albert Jones, J. Kyle Manzay, T.I., and Clarence Williams III
DIRECTOR: Ridley Scott
WRITER: Steven Zallian (based upon the article "The Return of Superfly" by Mark Jacobson)
PRODUCERS: Brian Grazer and Ridley Scott
GENRES: Crime, Drama
RATING: MPAA – R for violence, pervasive drug content and language, nudity, and sexuality
DISTRIBUTOR: Universal Pictures
In the late 80's, a critic (I don't remember whom) said, in reference to Joel and Ethan Coen's Miller's Crossing, that every American director who wanted to achieve greatness had to make at least one epic crime film (like The Godfather or Mean Streets). Ridley Scott was born in Great Britain, but the majority of his work has been for American movie studios. It seems only right that, in the tradition of great crime movies by such uniquely American filmmakers as Francis Ford Coppola and Martin Scorcese, Scott tackle a great American crime story. Scott's Oscar-nominated 2007 film, American Gangster, chronicles the rise of Frank Lucas, the real-life Harlem drug kingpin who left segregated North Carolina and eventually started a heroin ring in the late 1960's that netted him over a quarter of a billion dollars in assets by the time he was brought down.
After the death of his mentor, Elsworth "Bumpy" Johnson (Clarence Williams III), Frank Lucas (Denzel Washington) slowly, but gradually takes his place, building an international heroin ring that begins in Asia's Golden Triangle. With the help of his cousin, a military officer named Nate (Roger Guenveur Smith), Lucas smuggles the heroin through the military back to the east coast of the U.S. Under the name, "Blue Magic," Lucas sells a product that is twice as pure as other heroin on the street, but at half the price.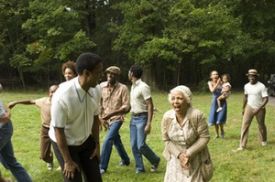 Washington and Oscar nominee Ruby Dee in the foreground from a scene in the film.
Meanwhile, Detective Richie Roberts (Russell Crowe), a New Jersey police detective, is finding that his unwillingness to steal money and drugs like many of his crooked colleagues has made him an outcast. His fortunes change when he's pegged to start his own special investigative unit that will focus not on small time dealers, but on the major players, which puts Frank Lucas squarely in his sights. However, Roberts' shadowy hunt might land him more than just another crime boss.
American Gangster is an engrossing story that is smoothly and efficiently told, considering that its epic scope seems too large for a single film that runs under three hours. [American Gangster's DVD release has a longer version of the film.] As well told as this film is, it seems to be missing a lot, thus, making it seem like a shadow version of classic 70's crime dramas that are also set in the gritty, crime-ridden metropolis that was New York City then. This is certainly a juicy period piece, in which everything: the clothes, cars, sets, and furnishings feel like the 1970's. Even the members of the cast seem caught in a malaise of poverty, crime, and corruption, as if they were caught in a 70's time warp.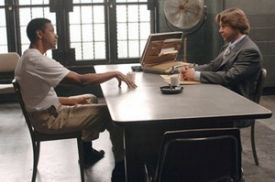 A deal with the devil? in this scene featuring Washington (left) and Crowe.
Still, although the mood is right, the heart of this movie is the duel between Washington's Lucas and Crowe's Roberts, and much of that is relegated to the film's last half hour. Ridley Scott and his screenwriter, Oscar winner Steve Zallian (Schindler's List), certainly create an engaging story chronicling both Lucas' rise and Roberts' reinvention of himself and resurrection of his career. Washington plays Lucas as if he were a cool big cat, a predator stalking the room – seen and unseen. He's the smartest guy in the room and the most dangerous man among many bad men, because Lucas knows when to use violence and how much. Like many of Washington's performances, it is a blast to behold and so good because he gives so many layers to Lucas – many of which we only glimpse. Crowe reveals Roberts to be a man of honor and integrity in his professional life, but woefully pathetic in his personal life. In that way, Crowe keeps Roberts as interesting as the alluring bad guy, Lucas. That we know Roberts is so pathetic as a family man balances the Boy Scout cop side of him – which by itself is not entirely interesting.
This film is ultimately missing the meat of the confrontation and larger relationship between these two men. American Gangster, Scott's film, is mostly about Lucas building his empire, and that story is attractive. However, a complete story about a great gangster recounts both his rise in the criminal underworld and his fall at the hands of a determined lawman (or men). American Gangster is a fine film, but it shorts us on the epic battle between criminal and detective and thus, shorts itself of greatness.
B+
2008 Academy Awards: 2 nominations: "Best Achievement in Art Direction" (Arthur Max-art director and Beth A, Rubino-set decorator) and "Best Performance by an Actress in a Supporting Role" (Ruby Dee)
Last Updated: March 10, 2022 - 22:00