Tim Burton, Johnny Depp Win Again in "Sweeney Todd" (2008 Oscar Winner)
By Leroy Douresseaux
April 25, 2008 - 13:30
Sweeney Todd: The Demon Barber of Fleet Street (2007)
Starring: Johnny Depp, Helena Bonham Carter, Alan Rickman, Timothy Spall, Sacha Baron Cohen, Jamie Campbell Bower, Jayne Wisener, and Edward Sanders
DIRECTOR: Tim Burton
WRITER: John Logan (based on the musical by Stephen Sondheim and Hugh Wheeler; originally stage by Harold Prince)
PRODUCERS: Richard D. Zanuck, Walter Parkes, Laurie MacDonald, and John Logan
GENRES: Musical, Drama, Horror
RATING: MPAA – R for graphic bloody violence
DISTRIBUTORS: DreamWorks Pictures, Warner Bros. Pictures
Tim Burton (Beetlejuice, Charlie and the Chocolate Factory) brings the music and lyrics of Stephen Sondheim to life in his wonderfully gruesome film, Sweeney Todd: The Demon Barber of Fleet Street, based on the Tony Award-winning musical by Sondheim and Hugh Wheeler. Burton keeps most of the songs from the musical and joins his frequent leading man, Johnny Depp, for the sixth time to make fantastically macabre movie magic, one that demands that the audience accept the gory reality of murder if it's going to be entertained by bloody revenge.
Escaping two decades of false imprisonment in Australia, Benjamin Barker (Johnny Depp) returns to London and vows to kill the evil Judge Turpin (Alan Rickman) and his nefarious henchman, Beadle Bamford (Timothy Spall), who framed him on trumped-up criminal charge in order to steal his wife. However, Barker has learned that Lucy (Laura Michelle Kelly) poisoned herself, and his now grown daughter, Johanna (Jayne Wisener) is Turpin's ward.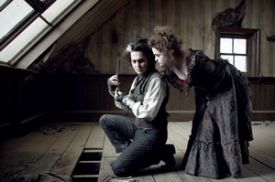 Todd and Mrs. Lovett examine the tools that will lead to their successes.
Adopting the guise of Sweeney Todd, Barker resumes his trade as a barber. He sets up his business in his old Barber Shop above the pie-making premises of Mrs. Nellie Lovett (Helena Bonham Carter), who falls for the mad barber. After killing a rival who threatens to expose Sweeney's real identity, Todd devises with Mrs. Lovett an inhuman scheme that will both get rid of the body and save Mrs. Lovett's ailing meat pie business. Todd begins to murder his customers, cutting their throats, and Mrs. Lovett uses their flesh as the filling for her pies.
Meanwhile, Anthony (Jamie Campbell Bower), the young sailor who rescued Sweeney from the sea, has fallen madly in love with Johanna and becomes the target of Turpin's ire, for Turpin wants to marry his young ward. Mrs. Lovett's pies soon become the talk of London, and as business booms, she dreams of respectability and a life at the seaside with Sweeney as her husband and her young charge, Toby (Edward Sanders), alongside as her adopted son. Sweeney Todd has only one thing on his mind – cutting Judge Turpin and Beadle Bamford's throats so severely that their arterial sprays will paint his walls.
While it may be true that Johnny Depp doesn't have a quality singing voice, he is a great actor, and his frequent collaborator Tim Burton is a great director. In Sweeney Todd: The Demon Barber of Fleet Street, the two of them make a splendid film musical, as good, and in some ways better, than recent screen musicals Chicago, Dreamgirls, and Moulin Rouge.
Depp, all brooding, smoldering, and quite mad, as Sweeney Todd is mesmerizing on screen. His Todd is a rich character capable of so many moods and so very capable of feigning civility and humanity when there is never a moment in this movie when Todd isn't at heart, a freaking homicidal maniac. It's no wonder that Depp earned his third Oscar nomination as a lead actor. His colleagues in the Academy of Motion Picture Arts and Sciences can see how wonderfully fertile this character is, simply because this amazing actor can create a profound character, almost out of thin air.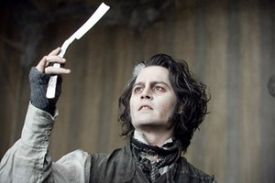 Todd's arm feels whole again, now that he has one of his beloved silver razors in hand again.
Burton, often criticized for focusing on whimsical, macabre, and almost pop gothic films instead of "serious" subject matter, seems to distill everything he has done thus far in cinema into this one gruesome, luminous jewel. Burton's creative and technical collaborators have fashioned some of the most imaginative and decorative costumes and sets. His cinematographers, editors, and lighting crews have made inventive uses of the tools and equipment of their trades and crafts. Burton is not only able to get the best of his technical staff, he is also able to get them to go out of the ordinary when it comes to creating visual splendor. Sweeney Todd is the movie where everything he has done has come together to produce the epitome of his visual style. It's like an astonishing colorful ode to Italian filmmaker, Mario Bava, an influence on Burton.
That's not to say that this is the Burton/Depp show alone. Stephen Sondheim's music is not only divine, but is also excellent at storytelling, character defining, and mood making. Helena Bonham Carter, a thoroughly underrated and underutilized actress, is a surprisingly spry singer with a beautiful voice. She's a scene stealer here, and one can argue that the film is as much her Mrs. Lovett's as it is Depp's murderous Todd. To put it simply, the people who made this movie made a great movie, a deliciously demented great movie.
A+
2008 Academy Awards: 1 winner for "Best Achievement in Art Direction" (Dante Ferretti-art director and Francesca Lo Schiavo-set decorator) and 2 nominations: "Best Actor in a Leading Role" (Johnny Depp) and "Best Achievement in Costume Design" (Colleen Atwood)
Last Updated: March 10, 2022 - 22:00