Deadman Wonderland: Volume 5 review
By Leroy Douresseaux
October 14, 2014 - 15:13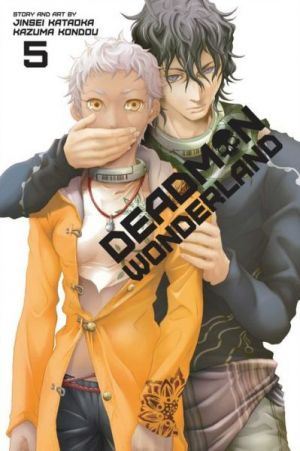 Deadman Wonderland Volume 5 cover image is courtesy of barnesandnoble.com.
Follow me on
Twitter
.
Rated "T+" for "Older Teen"

Fourteen-year-old
Ganta Igarashi was framed for the brutal murders of his classmates. He was sentenced to death and imprisoned in
Deadman Wonderland
, a privately run, carnival-like penitentiary built on the ruins of Tokyo. This bizarre and fatal theme park is a place where the prison bosses force the inmates to perform in notorious gladiatorial fights to the death. This is the near-future, ten years after the Great Tokyo Earthquake put 70% of Japan underwater.
As
Deadman Wonderland

, Vol. 5
(Chapters 17 to 21) opens,
Kiyomasa Senji
a.k.a "Crow" comes to the rescue of Ganta and his allies in
Scar Chain
, who are at the mercy of the
Undertakers
. Scar Chain planned to use a government select committee's visit to Deadman Wonderland as an opportunity to get a data chip, containing information of the truth about the prison, to one of the visiting inspectors. Now, they are lucky to escape with only a few members of Scar Chain dead.
Ganta begs Senji, who is quite prolific in the use of his "
Branch of Sin
" powers, to train him in how to use his own powers. Meanwhile,
Genkaku
, the "Super Monk," captures Scar Chain leader,
Karako
, and Ganta's (ex) friend,
Shiro
. He plans to torture them as bait to lure Scar Chain out of hiding. It's Scar Chain versus the Undertakers, Round 2, and things look worse for Ganta and friends.
THE LOWDOWN:
VIZ Media publishes the
Deadman Wonderland
manga on a bimonthly basis. That is a good thing, because every volume ends with a can't-wait-for-the-next-volume teaser.
Deadman Wonderland Volume 5
offers some hope for the prison's rebels, but there is an even bigger surprise move on Ganta's part. The series seems to have still more surprises in store; it certainly is not static. It is as if
Deadman Wonderland
is one big potboiler from beginning to end.
Creators
Jinsei Kataoka and Kazuma Kondou
have created in the prison, Deadman Wonderland, a microcosm of our world. It is a world of rising inequity, in which the have-nots are becoming fodder and entertainment for the mega-have-mores.
Deadman Wonderland
is shonen manga masquerading as classic science fiction, and it is well-dressed, indeed.
POSSIBLE AUDIENCE:
Readers who like shonen science fiction action will want to try
Deadman Wonderland
.
Rating: A /10
Last Updated: August 31, 2023 - 08:12