Deadman Wonderland: Volume 12 manga review
By Leroy Douresseaux
December 9, 2015 - 21:50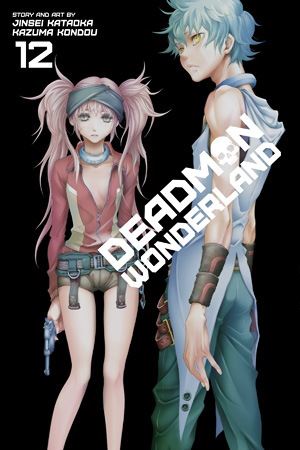 Deadman Wonderland Volume 12 cover image
Rated "T+" for "Older Teen"
After being framed for the brutal murders of his classmates, 14-year-old
Ganta Igarashi
was sentenced to death. Ganta was imprisoned in
Deadman Wonderland
(DW), a privately run, carnival-like penitentiary built on the ruins of Tokyo. This bizarre and fatal theme park is a place where the prison bosses force the inmates to perform in notorious gladiatorial fights to the death. This is the near-future, ten years after the
Great Tokyo Earthquake
put 70% of Japan underwater.
As
Deadman Wonderland

, Vol. 12
(Chapters 49 to 52) opens, Ganta is engaged in an epic battle with
Toto Sakigami
a.k.a. "Mockingbird," who is a brutal and powerful opponent.
Koyamada Senji
a.k.a. "Crow," intervenes because he and Ganta are a team, but even their union may not be enough to defeat a powerful and deadly foe.
Yosuga Mitsuzaki
helps Toto, and their history is revealed. Also, Ganta reveals to his friends what he learned about himself while connected to
Rinichiro Hagire
's memories.
THE LOWDOWN:
The
Deadman Wonderland
manga nears its end. VIZ Media publishes this graphic novel series on a bimonthly basis, which makes 13 volumes go by in a flash.
Deadman Wonderland Volume 12
is the penultimate volume, and it reads like a narrative about to close. The villains are more vicious as they near their goal, but the heroes have gone through too much to simply surrender to the pain. There were times in this series, when it seemed to be astute when it comes to politics and culture, especially concerning crime and punishment and exploitation. Now,
Deadman Wonderland
leans towards pure battle manga, so I am curious as to how it will end.
POSSIBLE AUDIENCE:
Readers looking for shonen science fiction action will want to return to
Deadman Wonderland
.
Rating: B+ /10
Last Updated: August 31, 2023 - 08:12