Deadman Wonderland: Volume 10 review
By Leroy Douresseaux
August 10, 2015 - 21:55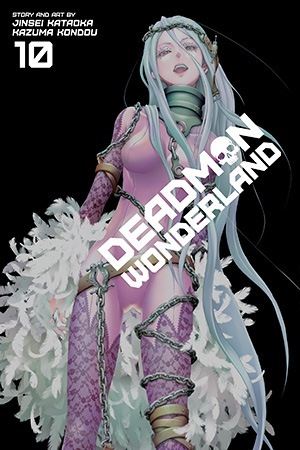 Deadman Wonderland Volume 10 cover image
Rated "T+" for "Older Teen"
Framed for the brutal murders of his classmates, 14-year-old
Ganta Igarashi
was sentenced to death because he didn't have the same jury that James Eagan Holmes had. Ganta was imprisoned in
Deadman Wonderland
(DW), a privately run, carnival-like penitentiary built on the ruins of Tokyo. This bizarre and fatal theme park is a place where the prison bosses force the inmates to perform in notorious gladiatorial fights to the death. This is the near-future, ten years after the
Great Tokyo Earthquake
put 70% of Japan underwater.
Deadman Wonderland

, Vol. 10
(Chapters 41 to 44) opens two months after the government of Japan closed Deadman Wonderland. The former inmates are now housed in other prisons or are free and trying to adjust to a new life. Ganta lives in
Minori Garden Foster Home
. He is in grief over discovering that his friend,
Shiro
, is
Red Man
, the monster that murdered his classmates. But Deadman Wonderland won't go away.
An elite military unit sent to survey the now abandoned prison is slaughtered, and there are calls to seal Deadman Wonderland.
Chief Makina
(former chief warden of the prison) takes over the "
Deadman Wonderland Task Force
" and begins building a team to return to the prison to destroy the
Wretched Egg
and the
Mother Goose
system. She wants Ganta on that team, but if he returns, Ganta knows that he will return to DW with murder on his mind.
THE LOWDOWN:
The
Deadman Wonderland
manga enters the final quarter of its narrative. Published on a bimonthly basis, the story moves fast, so this 13-volume series will be over before we know it.
Deadman Wonderland Volume 10
certainly won't go quietly into the night, as it is filled with noisy violence and revelations. There are so many revelations that I had to be careful in my summary not to reveal them. Vol. 10 is also important because more about the purpose of
Deadman Wonderland
the prison is revealed.
Jinsei Kataoka and Kazuma Kondou
also use the chapters contained in this volume to explain some inner workings and internal mythology. This a good volume for regular readers, and it would not be a bad place for a new reader to enter... before going back to the start.
POSSIBLE AUDIENCE:
Readers looking for shonen science fiction action will want to return to
Deadman Wonderland
.
Rating: A /10
Last Updated: August 31, 2023 - 08:12