Deadman Wonderland: Volume 13 manga review
By Leroy Douresseaux
February 5, 2016 - 08:41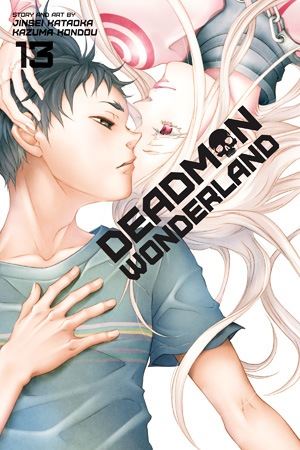 Deadman Wonderland Volume 13 cover image
Rated "T+" for "Older Teen"
He was framed for the brutal murders of his classmates; then, he was sentenced to death. Fourteen-year-old
Ganta Igarashi
was imprisoned in
Deadman Wonderland
(DW), a privately run, carnival-like penitentiary built on the ruins of
Tokyo
. This bizarre and fatal theme park is a place where the prison bosses force the inmates to perform in notorious gladiatorial fights to the death. This is the near-future, ten years after the
Great Tokyo Earthquake
put 70% of Japan underwater.
As
Deadman Wonderland

, Vol. 13
(Chapters 53 to 57) opens, the notorious prison begins to collapse and sink beneath the waves. Meanwhile, Ganta faces off against
Shiro
, as she begins to reveal her past. It is intimately connected to Ganta's and is the reason that Shiro wants Ganta to kill her.
Now, learn the origin of the Great Tokyo Earthquake. Why did Ganta's mother conceive him? Who bought Shiro? What is the source of Ganta's powers and why does he have them? Can either Ganta or Shiro have a happy ending? Can both their wishes come true in the end?
THE LOWDOWN:
The English-language publication of the
Deadman Wonderland
manga has ended, and it took a second publisher to do it. TOKYOPOP first brought
Deadman Wonderland
to America, but in the end, it was VIZ Media that published the entire series, in a graphic novel format, 13 volumes on a bimonthly basis.
Deadman Wonderland Volume 13
offers a satisfactory ending, in a battle manga fashion. Still, this dark series does not push aside its cautionary tale side, as to the end, it warns about the dangers of ruthlessly ambitious scientists and savagely opportunistic politicians. Like many sci-fi shonen manga,
Deadman Wonderland
offers a finale that is merely the end of one part of the story. The theme park and prison
Deadman Wonderland
has legacy, and the part that creators,
Jinsei Kataoka
and
Kazuma Kondou
, revealed to us was a darn good read.
POSSIBLE AUDIENCE:
Readers looking for shonen science fiction action will want to return to
Deadman Wonderland
.
Last Updated: August 31, 2023 - 08:12