Comics / Comic Reviews / More Comics
Her Bark & Her Bite comics review

By Leroy Douresseaux
July 28, 2017 - 20:57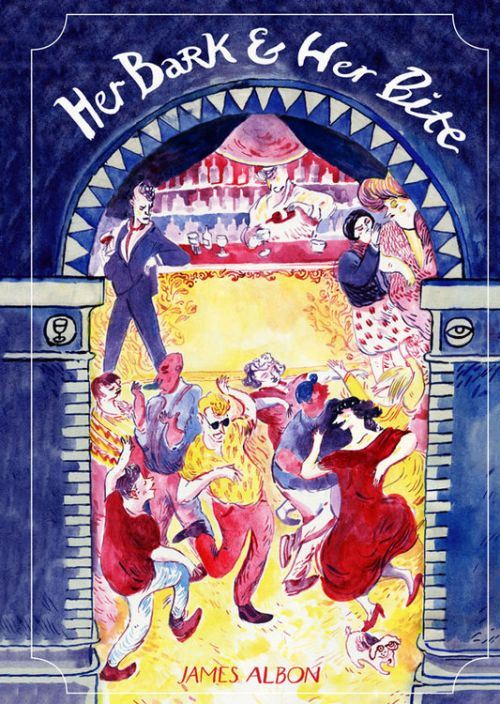 Her Bark & Her Bite cover image
Ages 16 and up
Her Bark & Her Bite
is a comic book from award-winning Scottish illustrator James Albon. Published by Top Shelf Productions, this 2017, full-color graphic novel is the story of young painter, her charismatic lover, and the ugly dog that comes between them.
Her Bark & Her Bite opens shortly after
Rebecca
, a budding young painter, arrives in the big city. She movies in with her cousin who does not like it when Rebecca paints. Rebecca meets a charismatic young man named
Victor Koenig
. Although he is initially standoffish with Rebecca, he eventually embraces her. The two fall madly in love, and Victor plunges Rebecca into a socialite world filled with glamorous parties where Victor is the center of attention.
Soon, being with Victor pays off, and Rebecca has a studio where she can a paint. Life among the layabout debutantes and dilettantes means meeting people who allow Rebecca to show off her work at exhibitions and in galleries. Eventually, however, something comes between Rebecca and Victor and threatens to upend their relationship – a pug named "
Princess
."
THE LOWDOWN:
I often wondered what it would be like if someone who was a cartoonist for The New Yorker (or for a comparable publication) produced a comic book or graphic novel. I found something like that a few years ago with the illustrated short novel,
After the Fall
, by Victoria Roberts. I found something closer with the new short graphic novel, Her Bark & Her Bite.
Her Bark & Her Bite's creator James Albon is certainly on the level of a New Yorker cartoonist, having produced work for newspapers such as The Guardian and the Wall Street Journal. Albon's artistic educational credentials are certainly impressive. Her Bark & Her Bite is his graphic novel debut, and is impressive; it certainly makes me think of cartoons found in high-end and high brow periodicals. I think Charles Addams, had he produced a comic book, would have created something not that far from James Albon's lively graphical storytelling in Her Bark & Her Bite.
I am not sure what color medium Albon uses to produce the art for Her Bark & Her Bite – color markers, color pencils, pastels? The result is scintillating and quicksilver, as the art is not so much drawn on art board as it is something that seems to dance on the page. The art crackles with energy and the result is a story that seems like a recollection of a real event rather than something the author contrived. The characters cannot help but be engaging; they pulse with the verve of life. The story cannot help but capture the reader's attention; it snaps, crackles, and pops.
I cannot imagine that readers who like to experience the breath and width of alternative comics and the modern graphic novel would not want to read this. It's bark is flashy, but its bite is substantial. Her Bark & Her Bite is an exceptional debut.
I READS YOU RECOMMENDS:
Fans of magazine and newspaper illustrations and cartoons will want to grab a copy of
Her Bark & Her Bite
.
A
9 out of 10
www.jamesalbon.com
www.topshelfcomix.com
Rating: 9 /10
Last Updated: August 31, 2023 - 08:12