Stamp of Approval Awarded to Archie Comics by u.s. postal service
By The Editor
June 30, 2010 - 08:10
This summer, on July 16th, Archie Comics—publisher of one of the longest running newspaper strips ever and the world's most famous comic love triangle—will be immortalized by the United States Postal Service as a part of a new stamp collection titled "Sunday Funnies."
The postage stamp features Archie Comics' most enduring and iconic image of the fabled romance—eternal teen Archie Andrews sharing a soda with his two favorite girls, the rich and vivacious brunette, Veronica Lodge, and the beautiful blonde girl-next-door, Betty Cooper, as drawn by legendary Archie artist, Dan DeCarlo.
To celebrate, Archie Comics has created a commemorative comic, "Archie in Stamp of Approval" featuring the official U.S. stamp in the upcoming ARCHIE DOUBLE DIGEST #210, which will be available July 7th.
An official Limited Edition Fleetwood First Day Cover will also be available and will feature a rockin' illustration of the fabled teens' band, The Archies, drawn by famed Archie cartoonist Stan Goldberg. Tons of super fun facts about Archie and the gang are featured on the reverse side of the cachet envelope. The cancelation of the stamp for the First Day of Issue—July 16, 2010—includes a pictorial cancelation hand cancelled by the U.S. Postal Service for Columbus, Ohio where the First Day ceremony will be held.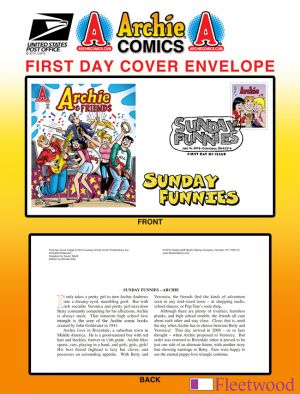 The United States Postal Service will be honoring the Archie love triangle as part of the "Sunday Funnies" series for "offering an idealized portrait of American adolescence" in the Archie newspaper strip since it first appeared in 1946. Since that year when the comic books expanded to include a separate newspaper strip, phenomenal cartoonists like Bob Montana, Stan Goldberg, Henry Scarpelli, and of course, Dan DeCarlo, have lent a hand in bringing the legendary Archie image to life in the daily and Sunday Archie newspaper comic strips.
"The U.S. Postage Stamp signifies just how much Archie Comics and its fabled romantic and comedic adventures of Archie & friends continue to touch our hearts and make us all laugh out loud, not just on Sundays, but on each and every day," said Jon Goldwater, Archie Comics Publisher.
Last Updated: February 5, 2023 - 09:06