Children of the Sea: Volume 2
By Leroy Douresseaux
December 20, 2009 - 14:26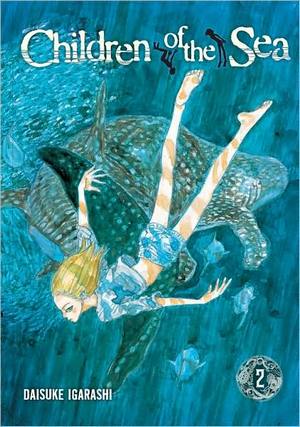 Children of the Sea: Volume 2 cover image is courtesy of barnesandnoble.com.
Rated "T+" for "Older Teen"
Ruka Akumi is a tomboy with a quick temper, but she feels at home at Enokura Aquarium, which to her is better than home. She befriends Umi and his older brother, Sora, two mysterious boys who were raised by dugongs (a member of the manatee family) during the early years of their lives. Ruka hears the same strange calls from the sea that the brothers hear, but the adults seem only vaguely aware of what the children are experiencing. Worldwide, fish are disappearing from the oceans. There also seems to be a mass migration of fish towards Japan. Why are they coming, and does it have something to do with Sora, whom Umi believes is dying?
In Children of the Sea, Vol. 2, Umi's guardian, Jim Cusack recounts his first experience with a mysterious child who was like Sora and Umi. Meanwhile, Ruka and Umi go on a journey to find the missing Sora, who returned briefly, only to disappear again. And most everyone seems to agree that something big is about to happen.
THE LOWDOWN: As I wrote about the first volume – classifying Children of the Sea into a particular genre is not nearly as rewarding as simply reading it. An ecological mystery and oceanic adventure story, Children of the Sea is part family drama and part children's fantasy with a considerable portion of the narrative dressed as a suspense thriller.
Perhaps, its sense of mystery is the element that most drives this story. Creator Daisuke Igarashi offers a tantalizing tale that dips, here and there, into various myths about the origins of humanity, and the author seems most enamored with the idea that the seeds of humanity came from outer space. However, Igarashi doesn't let the narrative focus to much on origins; he keeps the reader's mind from thinking too much about the narrative's theories by having us chase Ruka, Sora, and Umi. In this volume, Ruka and Umi's hunt for Sora is as hot as a summer potboiler novel. The loose, fluid style of the art is shaped into textured compositions which capture this manga's ecological spirit.
POSSIBLE AUDIENCE: Readers looking for exceptional, unique comics will likely enjoy Children of the Sea.
A
Last Updated: August 31, 2023 - 08:12