That '70s Super-hero
By Philip Schweier
Sep 2, 2009 - 13:45
In a recent l column I used an image of actor Lee Majors as Steve Austin, the Six Million Dollar Man, a show in which he starred in the mid-1970s. And while many might say there weren't any super-heroes on television until Star Wars made heroic fantasy marketable, I think there was quite a bit to appeal to comic book fans in the 1970s.

The Six Million Dollar Man, based on the novel Cyborg by Martin Caidin, centered around an Air Force pilot who was horribly injured in a plane crash. The Office of Strategic Intelligence (OSI) took the opportunity to rebuild him, giving him bionic legs, as well as a bionic arm and eye. The series ran for five seasons, beginning in 1974.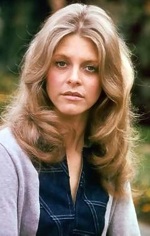 Lindsay Wagner, the Bionic Woman
Season two ended with the impending marriage of Steve Austin to his childhood sweetheart, Jaime Somers, (played by Lindsay Wagner) until a near-fatal skydiving accident leads to her being given bionic prosthetics as well. Tragically, her body rejected the process, and she died. But the character was popular enough that the following season began with Jaime's last-minute resurrection, but at the cost of her memory. Steve follows up the seeming conspiracy to keep him away from the ghost of his true love, only to learn she has no memory of him.
All of which led to a spin-off series,
The Bionic Woman
, which debuted 1976 and ran for three seasons. Beginning in 1987, both series were resurrected for a number of TV movies. Both series were later "re-imagined" – more or less – as
Jake 2.0
in 2003, and the more-direct remake,
The Bionic Woman
in 2007. Neither was successful, and they died after only a handful of episodes.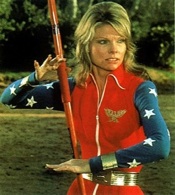 Cathy Lee Crosby, TV's first Wonder Woman
Another prime-time super-hero of the 1970s was Wonder Woman. At the time, DC Comics had given the Amazon a radical makeover, turning the super-heroine into a non-super-powered – but super-liberated – woman. Her initial television debut in 1974 starred Cathy Lee Crosby and featured a blend of old and new: a full-body unitard as in the comic books, but with a star-spangled motif.
A second effort a year later starred Lynda Carter, a role that is now as iconic as George Reeves' Superman and Adam West's Batman. This second effort returned the character to her World War II roots, and co-starred Lyle Waggoner as Steve Trevor. Though somewhat campy with its comic book-style subtitles, one high point of the show was the introduction of Wonder Girl, played by future star Debra Winger.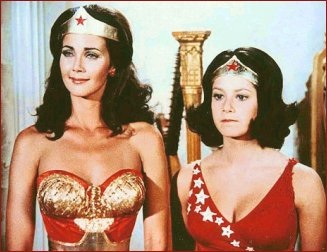 Lynda Carter as Wonder Woman, and Debra Winger as Wonder Girl
When ABC canceled the show after one season, CBS took it over, updating the show to modern day, and Waggoner role was now Steve Trevor Jr. Together, Trevor and Diana worked for the Inter-Agency Defense Command (IADC), mirroring the tone of The Bionic Woman.
In March, 1978,
The Incredible Hulk
borrowed the man-on-the-run concept made famous in the highly successful series,
The Fugitive
. Veteran actor Bill Bixby played David Banner, a scientist who transforms into the monstrous Hulk (Lou Ferrigno) whenever he is outraged. Banner is believed killed at the end of the premier episode, but reporter Jack McGee pursues sightings of the Hulk across the country, and Banner narrowly escape exposure at each turn "until he can find a way to control the raging beast within him."
The series ran for five seasons, and in the late 1980s three made-for-TV films were made, culminating in
The Death of the Incredible Hulk
, releasing Banner from his gamma-induced curse.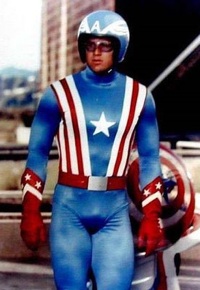 This is your captain? Reb Brown as Captain America
Following the success of The Incredible Hulk, network television immediately began creating shows adapted from other Marvel Comics characters.
Spider-Man
, starring Nicholas Hammond, ran for 13 episodes. California hunk Reb Brown portrayed Captain America in two made-for-TV movies. In the first, his costume was radically different from the comic books, leading to significant criticism from fans. An adaptation of Dr. Strange was attempted, but failed to capture any interest.
Saturday morning also offered its share of live-action super-heroes. Most notable of these was
Shazam!
(1974), which starred teen heartthrob Michael Gray as Billy Batson, and Jackson Bostwick as his alter ego, Captain Marvel. A total of 28 episodes were produced, 17 of which feature Bostwick as the World's Mightiest Mortal. He was later dismissed from the show in a dispute, and replaced by John Davey for the final 11 episodes.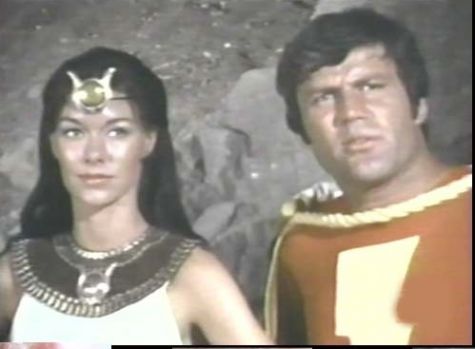 Joanna Cameron as Isis, and John Davey as the second Captain Marvel
The following year, Filmation also produced 22 episodes of
Isis
, a companion show to
Shazam!
Joanna Cameron starred as a school teacher given super-powers by an Egyptian amulet.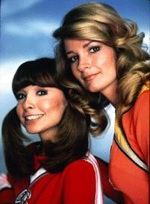 Deidre Hall as Electra Woman (right) and Judy Strangis as Dyna Girl (left)
Sid and Marty Krofft, famous for their
H.R. Puffnstuff
show, produced
Electra Woman & Dyna Girl
, starring Deidre Hall and Judy Strangis. A segment of
The Krofft Super Show
, the low-budget, high-camp series followed a Batman & Robin formula.
In the 1960s, the campy
Batman
established a model for success, the tongue-in-cheek formula straddling the line between kid audiences and adult viewers. Because of this success, the super-hero genre was never taken seriously by filmmakers. With the advent of
Star Wars
in 1977, heroic fantasy was proven to have appeal to adult audiences.
Praise and adulation? Scorn and ridicule? E-mail me at philip@comicbookbin.com
Last Updated: Dec 19, 2017 - 22:52