Comics / Spotlight / Black Astronaut
Best of (what I've read) 2010
By Leroy S. Douresseaux
January 15, 2011 - 20:12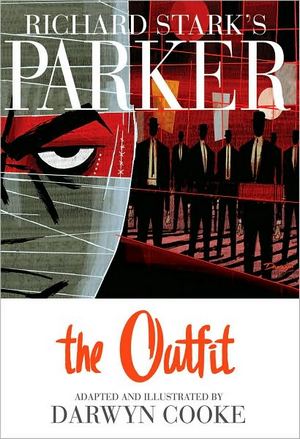 Parker: The Outfit cover
I didn't read as many comic books, graphic novels, or books about comic books in 2010 as I did in 2009. I feel somewhat disconnected from the industry and the market, but I still love comics.
There is quite a bit of stuff I didn't get to read: the latest issue of
Love & Rockets, Vol. 3
, the new Dan Clowes, the return of John Byrne's
Next Men
, and some manga titles that were getting much love. I'm way behind on Vertigo favorites like
Hellblazer
,
The Unwritten
, and
Air
. On the other hand, I'm not going to pay to read Jeph Loeb, Matt Fraction, or Marvel Comics in general. Still, I'm doing a "Best of" list, and I can think of it as the Golden Globes of comic book awards, with the BINnies and (maybe) the Eisner Awards as the Oscars of comic book awards.
Also, with the payola rumors currently attached to the Golden Globes, let me say that I'm also not ashamed to take goodies as payment for handing out awards. I'm the street walker of comic book critics. G's up! Ho's down!
My "Comic Book of the Year" goes to Richard Stark's
Parker: The Outfit
by Darwyn Cooke from IDW. Right now, Cooke is the best talent in North American comic books and is producing the best work. The Outfit is probably the best American crime fiction comic book ever, and it is definitely Top 10 for the decade of 2001-10, the first decade of this still-new century. I'm in awe of Cooke.
Best of (what I've read):
COMICS AND GRAPHIC NOVELS:
•
Aladdin: Legacy of the Lost
by Ian Edginton, Patrick Reilly, and Stjepan Sejic – Radical Publishing
•
CLiNT
by Mark Millar and others – Titan Publishing
•
Flight: Volume Seven
by Various – Villard Books
• Forget Sorrow: An Ancestral Tale by Belle Yang – W.W. Norton & Company
•
Hotwire
by Steve Pugh – Radical Publishing
•
Milestone Forever
by Dwayne McDuffie and various artists – DC Comics
•
Nemesis
by Mark Millar and Steve McNiven – Marvel/Icon
• Richard Stark's Parker: The Outfit by Darwyn Cooke – IDW
•
Superman: Earth One
by J. Michael Straczynski and Shane Davis – DC Comics
•
Time Bomb
by Jimmy Palmiotti, Justin Gray, and Paul Gulacy – Radical Publishing
MANGA
•
Akira
by Katsuhiro Otomo – Del Rey Manga
•
Children of the Sea
by Daisuke Igarashi – VIZ Media
•
Biomega
by Tsutomu Nihei – VIZ Media
•
In the Walnut
by Tōko Kawai – Juné Manga/DMP
•
Naruto
by Masashi Kishimoto – VIZ Media
•
Papillon
by Miwa Ueda – Del Rey Manga
•
Pluto: Urasawa × Tezuka
by Naoki Urasawa, Osamu Tezuka, Takashi Nagasaki – VIZ Media
•
Slam Dunk
by Takehiko Inoue – VIZ Media
•
20th Century Boys
by Naoki Urasawa – VIZ Media
•
Vagabond
by Takehiko Inoue – VIZ Media
Some more books that I want to shout out: First, there is the
Kick-Ass
hardcover by Mark Millar and John Romita, Jr. (Marvel Comics/Icon), which is a beautifully produced hardcover collection of a great comic book.
The Splendid Magic of Penny Arcade: The 11½ Anniversary Edition
(Del Rey Manga) is a splendid retrospective of the popular webcomic, and it can also make a nice coffee table book. I want to give much love to
Rip M.D.
by Mitch Schauer and Mike Vosburg (Fantagraphics Books), the marvelous kids' comic book and graphic novel that recalls classic Saturday morning cartoons and EC.
Most of all, I want to pimp
Legion of Super-Heroes: The Great Darkness Saga The Deluxe Edition (DC Comics)
, the supa-dupa, lovely reprint of the fan-favorite and influential LoSH storyline. I love this book, and I think that it is just as good as an "Absolute" edition.
See ya next year. Thanks for reading, everyone!
Last Updated: August 31, 2023 - 08:12