Behind the Scenes!! Volume 1 manga review
By Leroy Douresseaux
Feb 4, 2016 - 19:54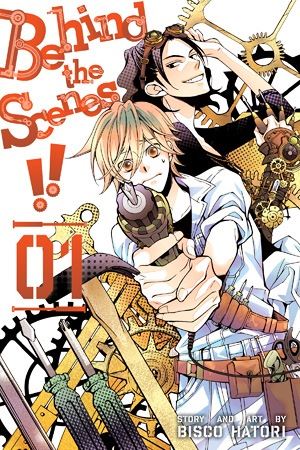 Behind the Scenes!! Volume cover image
Rated "T" for "Teen"
Ranmaru Kurisu
is an 18-year-old who blames himself for everything. An outcast from a village of fisherman, Ranmaru is not crazy about people and is not crazy about being around them. He is now a first year student as
Shichikoku University
("Shichi U"), and while he initially planned on trying to find a group into which he could fit, he is back to being his old isolated self. Then, fate brings him into contact with "
The Art Squad
."
As
Behind the Scenes!!

, Vol. 1
(Chapters 1 to 5) opens, it is two months into Ranmaru's college career. Now, he is sure that he does not want to be around other people. Then, he bumps into a young woman who is seemingly being attacked by a zombie, which causes Ranmaru to faint. As things turn out, this incident is simply part of a college movie shoot.
Shichi U has four film clubs and all of them make their own movies. The Art Squad works behind the scenes creating costumes, building sets and backdrops, designing special effects and make-up and more for these collegiate film productions. The Art Squad is full of loud and friendly people, and their leader,
Ryuji Goda
, puts Ranmaru to use helping them. Is this the group of weirdos that Ranmaru's been looking for all his life?
THE LOWDOWN:
As a movie buff with an interest in film-making, I am attracted to the
Behind the Scenes!!
manga. As far as subject matter, Behind the Scenes!! is similar to
Gimmick!
, a manga series by Youzaburou Kanari and Kuroko Yabuguchi. Gimmick! was a mystery series in which the leads used their movie special effects skills to solve cases.
Behind the Scenes!! Volume 1
makes it clear that this series will be light in tone. What is not clear is its direction. It is a college-set ensemble comedy with hints of romance and some family drama. Although he is a male, Ranmaru Kurisu is like a heroine trying to find her way in a new setting. In this first volume,
Bisco Hatori
offers lots of friendship building, and she makes the characters intriguing. I am interested to see where this series goes.
POSSIBLE AUDIENCE:
Fans of Bisco Hatori's work will want to try the Shojo Beat title,
Behind the Scenes!!
Support this writer on Patreon
Last Updated: Jun 26, 2018 - 9:28