Behind the Scenes: Volume 2 manga review
By Leroy Douresseaux
Jan 2, 2017 - 21:38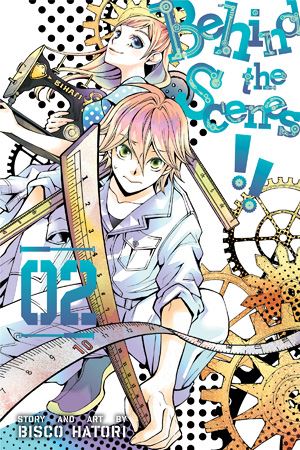 Behind the Scenes Volume 2 cover image
Rated "T" for "Teen"
Ranmaru Kurisu
is an 18-year-old who blames himself for everything. An outcast from a village of fisherman, Ranmaru is not crazy about people and is not crazy about being around them. He is now a first year student as
Shichikoku University
("Shichi U"), and while he initially planned on trying to find a group into which he could fit, he is back to being his old isolated self. Then, fate brings him into contact with "
The Art Squad
."
As
Behind the Scenes!!

, Vol. 2
(Chapters 6 to 10) opens, Ranmaru awakens one morning and wonders if his experiences with the Art Squad were just a dream. No, they were not, and now the squad has a new job. The gang has to create an anime/manga otaku environment, but fearless leader,
Ryuji Goda
, takes it all so seriously, they may never finish the job.
THE LOWDOWN:
I am a movie buff with an interest in film-making, so I am attracted to the
Behind the Scenes!!
manga. Behind the Scenes!! has some similarities to
Gimmick!
, the manga by Youzaburou Kanari and Kuroko Yabuguchi, which was a mystery series in which the leads used their movie special effects skills to solve cases.
Behind the Scenes!! Volume 2
begins with an assignment to create a movie set for one of the universities' film clubs. However, the focus in this graphic novel is on friendship and bonds. It is a way for creator
Bisco Hatori
to reveal the personalities of some of her characters. I found myself as interested in the characters as I was in set creation, and this series has, from the beginning, had a keen eye on its players. There are indeed characters Behind the Scenes!!
I READS YOU RECOMMENDS:
Fans of Bisco Hatori's work will want to try the Shojo Beat title,
Behind the Scenes!!
B+
Rating: B+ /10
Support this writer on Patreon
Last Updated: Jun 26, 2018 - 9:28