Behind the Scenes: Volume 3 manga review
By Leroy Douresseaux
Jan 11, 2017 - 11:12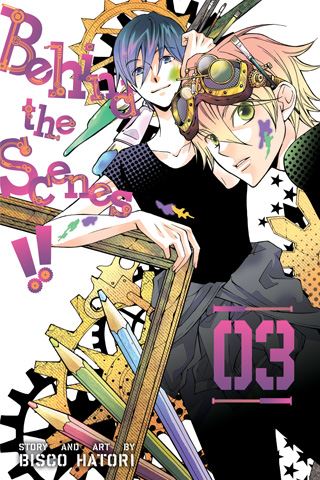 Behind the Scenes Volume 3 cover image
Rated "T" for "Teen"
Ranmaru Kurisu
is an 18-year-old who blames himself for everything. As an outcast from a village of fisherman, Ranmaru is not crazy about people and is not crazy about being around them. He is now a first year student as
Shichikoku University
("Shichi U"), and while he initially planned on trying to find a group into which he could fit, he is back to being his old isolated self. Then, fate brings him into contact with "
The Art Squad
."
As
Behind the Scenes!!

, Vol. 3
(Chapters 11 to 15) opens, the Art Squad is asked to provide special effects for a horror movie being produced by one of the college's film studies clubs. The star of that student film is actually a child actor,
Rin Debito
, who turns out to be both a brat and a diva. However, there is more to Debito's hateful ways than the students realize.
[This volume includes bonus manga, "Behind the Scenes!! Daily Life."]
THE LOWDOWN:
As I've said previously, I am a movie buff with an interest in film-making, so I am attracted to the
Behind the Scenes!!
manga. Still, this series moves beyond film making and looks at the lives of the characters.
Behind the Scenes!! Volume 3
is kid-centric, as the Art Squad finds itself working with children. Honestly, I was not crazy about all of these "kids' adventures," although the child actor story is quite nice. I enjoyed the "haunted house" story and hope that the series runs long enough to give it another go. Volume 3 is the least, in terms of quality, of the graphic novels released thus far. Gradually, the drama in
Behind the Scenes!!
is increasing; I think the next volume will be hot.
I READS YOU RECOMMENDS:
Fans of
Bisco Hatori
's work will want to try the Shojo Beat title,
Behind the Scenes!!
B
Rating: B /10
Support this writer on Patreon
Last Updated: Jun 26, 2018 - 9:28