Comics / Comic Reviews / Marvel Comics
AVENGERS #78
By Loretta Ramirez
Feb 15, 2004 - 13:23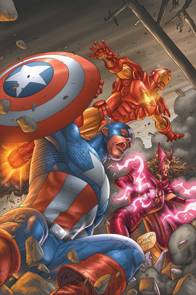 The Wrecking Crew is defeated, Captain America fails to protect a civilian, and the Wasp and Scarlet Witch explore their powers in "Lionheart of Avalon, Part 2" by Chuck Austen and Olivier Copiel. But despite the plentitude of events, this is an intriguing character-driven story that explores the characters' central themes with strong dialogue, memorable interactions, and power-shifts.
Austen has a particularly keen handle of Hawkeye. As the archer beats Piledriver and the Wrecker with a single pull of his bowstring, his cockiness is in high form but later is tempered with compassion, a trait highlighted in Hawkeye's dealings with two children. Austen also sets up a fascinating situation as the Wasp—a previously dominated, wispy ex-wife whose power was to shrink—becomes a giantess. And, the ramifications of Captain America's failure promises to be long-ranging and interesting.
Copiel's action sequences are clever, especially with Hawkeye's battle. Piledriver's agony would be pitiful if it wasn't so hilariously exaggerated; even his hair seems stiff with pain. Also well detailed is She-Hulk hurling Thunderball through a block of parked cars and the cruel battering of Captain America's protector. Additionally, the characters' expressions are acute—from Hawkeye's cool poise as he smoothly takes aim, to the Scarlet Witch's remorse at announcing the death of a hero.
Overall: A
Last Updated: Jun 26, 2018 - 9:28