Comics / Comic Reviews / More Comics
Abattoir #2
By Leroy Douresseaux
January 2, 2011 - 07:09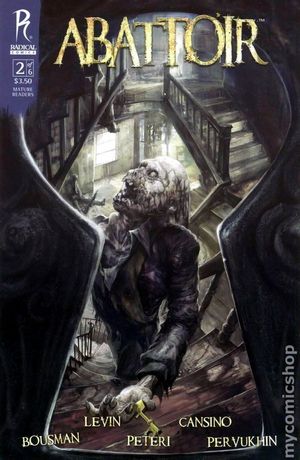 Abattoir #2 cover image. Thanks to mycomicshop.com.
Abattoir, a new horror comic book miniseries from Radical Publishing, is the creation of screenwriter and movie director, Darren Lynn Bousman (Saw II-IV). Set in the late 1980s, Abbatoir takes place in a sunny Middle America that is also home to hidden darkness and brutal murder.
The lead character is cop turned real estate agent, Richard Ashwalt. Struggling to sell the Mitchell house in which a brutal massacre took place, Richard meets a very strange old man, Jebediah Crone, who wants to buy the house before even before it is finished being cleaned. Richard's problems mount when he learns that he is the subject of a homicide investigation.
In Abattoir #2, Jebediah Crone continues to push Richard into selling him the Mitchell house by visiting Richard's own home for dinner. Richard also learns that he is definitely tied to a brutal murder by physical evidence. He comes to believe that Crone is the reason for the strange turn his life has taken and begins an investigation of the old man.
THE LOWDOWN: Although it is as ghoulish, if not as brutal, as Bousman's Saw films, Abattoir is turning out to be an exceptional horror comic book. As the American comic book market needs some diversity in genre, Abattoir is perfect for readers looking for something different in comic books. Gothic, macabre, and mysterious, Abattoir, with this issue, slowly creeps into Lovecraft territory, with its ghastly dreamscapes and a sense of an overwhelming, but mysterious supernatural.
While the writers get all the genre bits right, they don't seem to be as committed to the characters, all of whom are either shallow or just types. Still, the writers and artists have come together as one twisted creative unit and have presented a horror mystery that is a dark and tasty spin on the whodunit while staying true to the scary.
POSSIBLE AUDIENCE: Readers always on the lookout for horror comics will find a good one in Abattoir.
B+
Last Updated: September 6, 2021 - 08:15