Comics / Comic Reviews / Marvel Comics
Young Avengers #2 Review
By Zak Edwards
March 4, 2013 - 18:41
Young Avengers, in many ways, is the absolute epitome of comics and there isn't really anything you can get on its case for. The writing is clever, the art is magnificent, and the book is wildly entertaining, taking well rounded characters and playing them in ways that are at once believable and enjoyable. Striking this balance is difficult. Plenty of writers turn books, especially the 'teen' genre, into melodrama on top of the melodrama that is Western comics and the superhero genre. I think of Whedon's approach to The Avengers: "Ultimately these people don't belong together and the whole movie is about finding yourself from community. And finding that you not only belong together but you need each other, very much. Obviously this will be expressed through punching but it will be the heart of the film." This is exactly how comics operate and plenty of books have questioned this, either through even more punching or a lot of walking around and pontificating (Morrison's The Invisibles does it through both, I think, if we want to limit that book to the superhero genre momentarily). But I think I could safely say that Young Avengers rivals one of Whedon's own creations: Astonishing X-Men.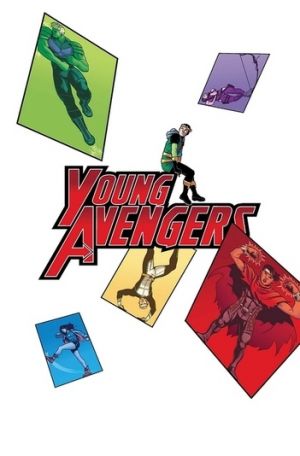 Whedon's run with the X-Men was not exactly ground-breaking or redefining in any way (other than putting them out of Morrison's leather and back into spandex) but I don't think that diminishes the comic in any way. Whedon's take was incredible in part because of its willingness to operate within the confines of the genre and instead focus on the potential it can produce, like the genre's long andsustained investment in characters. Writer Kieron Gillen is doing the same thing here:
Young Avengers
is just a really good teen superhero comic, one that takes the genre, its characters, and their situations very seriously. Take for instance Loki's traveling outside of panels: nothing is really ground-breaking in these scenes, no challenge to the genre's status quo. Instead, we have a really well-constructed scene that makes use of the medium that's both entertaining and exciting. And what else is required, really? It's just a great book!
The art is exactly the same. Jamie McKelvie isn't breaking boundaries, he's not bringing a new sensibility to comic art. Nope, he's delivering a well-constructed, carefully timed, and enjoyable art that I think respects the characters and genre as much as the writing. His characters are emotive while grounded, glimmering without excess. Not once is this book mis-stepping and every page shows careful planning and thought to storytelling, the exact opposite of sloppy. McKelvie's work is delightful and I can't really think of anything else to say!
8.5/10
Young Avengers
is great! What else do you need?
Last Updated: February 5, 2023 - 09:06