Comics / Comic Reviews / Marvel Comics
Young Avengers #1 Review
By Zak Edwards
January 28, 2013 - 23:01
I have to say, the Young Avengers being back on track is a nice thing to witness. Not only can these characters get back to being people not involved in plots much too large and incomprehensible for a decent comic (yes, I'm talking about Children's Crusade and that's coming from someone who not only enjoys Grant Morrison at his most incoherent, but is actually writing a thesis on it!). The major problem with Allan Heinberg's last attempt to come back to his great achievement was that he forgot who he was dealing with. The characters he created were not only timely, the were wonderfully nuanced and enjoyable characters. When he returned for an anachronistic attempt to make something about their lives and House of M, everyone else had moved on. Perhaps that is a required element of comics (and indeed anything teen-centered): you have to be here now or else it doesn't quite work. Enter writer Kieron Gillen.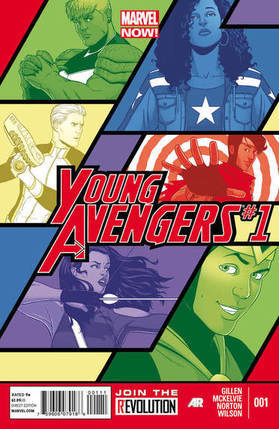 I mean, there have been times that such anachronism works. Black Hole comes to mind immediately as something that bridges the seemingly isolated teenage experience in a sort of history (albeit a history with removable tails), but a comic like this needs to adapt. This series needs, as the title suggests, style over substance. Not that what we have is insubstantial; on the contrary, Young Avengers #1 packs a fair amount of characterization into a fairly stereotypical first issue. The issue does as required: it introduces the primary players, their situations, and their conflict, but stays interesting and wonderfully entertaining. The book certainly has one of the best openers I've seen in a comic: Kate Bishop (the other Hawkeye) has been up to some sexy times with Noh-Varr (which is probably why Grant Morrison came to mind initially) and then, in a classic and hyper-kinetic splash two-page spread, the issue literally takes off. Even as Gillen focuses on the smaller moments that shows off his handle on these characters, the energy remains until everything stops almost too quickly. I'll be back next month, no question.
Artistically, the book shines as well. Like I said earlier, artists Jamie McKelvie and Mike Norton have a classic and kinetic style that can also handle strong emotive moments. The spreads are particularly exciting and visually stand-out (like a spread should). Sometimes characters can get strange looking, but overall the art is exactly what this book needs. The book moves quickly when it should, exciting readers, and can make you ponder and linger too. Gillen's pacing is perfectly accentuated by the beats of the art.
Grade: 8/10 The glorious return of an exceptionally entertaining series
Last Updated: January 24, 2022 - 11:00