Comics / Comic Reviews / Marvel Comics
Wolverine and The X-Men #2
By Andy Frisk
December 4, 2011 - 16:44
Logan really needs for Bobby Drake/Iceman to step up his game. One thing that Logan agrees with Scott Summers/Cyclops on (and if you've been reading recently there isn't much the two agree on anymore) is that Bobby has the most untapped potential of "all the original X-Men." Logan's assertion isn't just his and Scott's opinion. It is the opinion of Wolverine and The X-Men writer Jason Aaron as well. When the new Hellfire Club's psycho kid leaders attack with entire platoons "of miniaturized genetically-engineered combat troops, who all then expand upon contact with the air" that look like futuristic Frankenstein's monster video game characters (the Hellfire Club's new Black King is a descendent of the original Frankenstein), it is Iceman who saves the day. Can Iceman also end up saving them from the first ever foe that Wolverine faced as a new X-Man? Krakoa The Living Island is a much bigger threat than the Frankenstein monsters...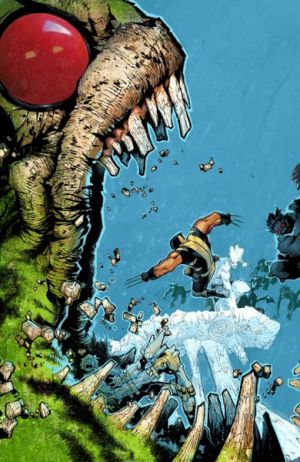 The action comes fast and furious in this second issue of the Aaron penned and Bachalo drawn
Wolverine and The X-Men
. While it is a fun, fast paced tale, packed with some signature Aaron humor, it has a lighthearted and semi throwaway feel to it. It's becoming evident that this title might be being touted as returning the X-Men to what "originally made the X-Men great," but so far it's silly villains and living islands. We're only two issues in though, so Aaron has plenty of time to get acclimated to figuring out how to slide his signature satire and social commentary into what Marvel Comics is obviously wanting to be their most mass appeal and non feather ruffling book. I just hope the intelligent commentary isn't left for only Gillen and Gischler to indulge in over in
Uncanny X-Men
and
X-Men
.
It is good to see Aaron live up on his promise to make Iceman more of a powerful and interesting character, at least topically. No one ever really thinks of Iceman as being the one who is going to save the day, but Aaron finds a believable way to have him do so. Hopefully, he'll get the chance to develop and make use of the most underrated and underused (and one of my personal favorite) X-Men, Rachel Grey aka Marvel Girl. Rachel has been given some awesome new duds that reflect where she's been and where she's going as a character, she's been given a bit of an older look, and her facial/psionic tattooing has been slightly redesigned. Now all she needs is some character development coupled with some starring roles in a few issues and she's back on top as one of the most interesting psionic X-girls, as she should be. Who else out there is tired of Emma Frost, her ludicrous outfit, and smart ass attitude? Looks like Rachel might be Gage's sandbox toy over in
X-Men Legacy
though as she's prominently featured in the promo art for the book's #260.1 issue…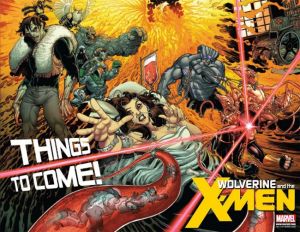 Looks like some cool things are coming storytelling wise...
Wolverine and The X-Men
's resident artist, Chris Bachalo, continues to be the kind of sequential artist who you either love or hate. For me though, the love hate relationship is a panel to panel kind of emotional rollercoaster ride. Some of his panels are sharp, clear, and highly imaginative and others are near indecipherable. I seriously don't think that I've enjoyed one of his books completely since
Death: The High Cost of Living
(yes, I know that dates me, but it still holds up as one of today's modern classics). The inconsistency in his work isn't enough to make me dislike him though as his positives outweigh his negatives, but his work has trended more and more towards the cartoon-like and further from the atmospheric/horror type look of his early days.
Overall, I'm still waiting for Aaron to cut loose, and for Rachel to take on more of a visible role. Hopefully, these things will be coming. I still feel that this age of X-stories can go down as the Aaron (maybe Aaron/Gillen) Age, but the jury is now back out on whether
Wolverine and The X-Men
is going to be the title that solidifies this assertion.
Rating: 6.5 /10
Last Updated: May 19, 2020 - 12:25