Comics / Comic Reviews / Marvel Comics
Wolverine and The X-Men: Alpha and Omega #1
By Andy Frisk
January 5, 2012 - 18:13
Quentin Quire/Kid Omega recently saved The Jean Grey School for Higher Learning from destruction at the hands of the offspring of Krakoa the Living Island and the new Hellfire Club. He did so without taking any of the credit, just after blabbing on about how he couldn't believe that some of the new students at the school didn't know who he was. It was all a rather humorous (in classic Jason Aaron style) event. Now though, all humor is gone as Quire decides to teach Logan a lesson for dragging him (Quire) off to school where he feels he is wasting his time. In order to do so, Quire creates a virtual psyonic generated/ mental construct world where Logan and his current sparring partner, the mutant student Armor, are living out some type of near future or near apocalyptic Blade Runner existence, and are on a mission to deliver some questionable product for a sizable amount of money or something. Neither of them are aware of their powers, but circumstances cause them to realize that they are a little more human than human.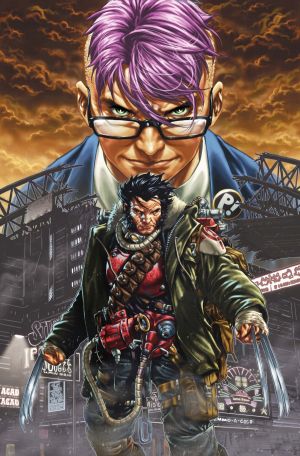 The main reason for reading this title is not because it is a loose sequel to the recent events of
Wolverine and The X-Men
or a Logan vs. Quire story. Jason Aaron is handling these two topics well enough over in the pages of
Wolverine and The X-Men
. The main reason for my picking this title up is because Brian Wood is writing it, THE Brian Wood. The same guy that I listed as my favorite writer of the year, because of the continued excellence of
Northlanders
over at Vertigo, is using
Wolverine and The X-Men: Alpha and Omega
as his vehicle for reentering the field of superhero comics writing. Expectations are high. So, what's the verdict?
Well, it's a bit mixed to be honest. For anyone who has been reading
Wolverine and The X-Men
, the characterization of Quire here in
Alpha and Omega
doesn't exactly feel the same as the characterization of him over in
Wolverine and The X-Men
. The story itself though is interesting enough. Where is Quire going to be going with all of this, and how much patience will Logan have for this snotty nosed punk upstart? It's also cool to see Wood put a lesser known X-Man into the forefront of the tale, but it's really nothing new as Wolverine has been hanging with underage mutant girls for at least 30 years or so. This still doesn't do much for his image. He's only recently begun to take on a "father-figure" type of role and image.
Artistically, the small army of pencillers and inkers who worked on this book are all solid enough. Keeping with the trend of Quire being almost two different people in two different books, they make him look older and more sinister than he does over in
Wolverine and The X-Men
. Different books, different writers, and different artists writing and drawing the same characters at the same time will have that effect on said characters though.
Overall, it's good to see Wood getting back into superhero books, but something a little more suited to his usual themes might have been a little more interesting. There's enough to keep me interested here thus far, but it's going to have to get much more interesting for me to finish reading the series issue by issue and not waiting for the trade.
Rating: 6 /10
Last Updated: May 19, 2020 - 12:25