Comics / Comic Reviews / Marvel Comics
Wolverine and The X-Men
By Andy Frisk
October 26, 2011 - 19:21
Wolverine is now the headmaster of a school for gifted youngsters. Staffed by Headmistress Kitty Pryde, Vice Principal Beast, Senior Staff Members Gambit, Rachel Grey, Rogue, Iceman, and Junior Staff Members Cannonball, Chamber, Husk, Karma, Frenzy, Doop and Janitor Toad, The Jean Grey School for Higher Learning attempts to complete its first day of classes. It's a day fraught with danger, not just from the new Black King of the Hellfire Club, but The New York State Department of Education's inspectors. Logan is about to throw in the towel, but developments on, or rather under, the school's grounds are going to call him and his staff, and most likely his students, into action. Will they defend the school and Xavier's dream successfully? Time will tell, but with "Marvel Architect" Jason Aaron at the helm, it's a pretty safe bet that though the road will be fraught with perils, Logan and company will succeed. Hopefully…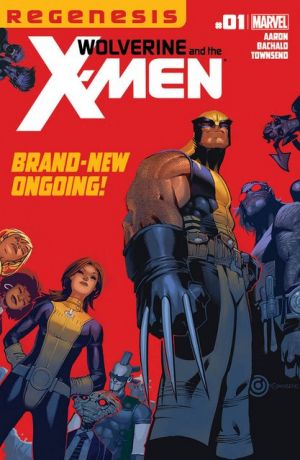 Jason Aaron takes on what is sure to be the most highly visible book about a group of X-Men since,
X-Men
(1991). Along with series artist Chris Bachalo, Aaron has the opportunity to explore some new and interesting ground, hitherto unseen in the pages of an X-book. Wolverine taking on Charles Xavier's role? It's such a crazy idea that it is going to work. It's also such a brilliant idea that I love it. Too often our beloved comic heroes stagnate, and in the most extreme cases, get an even more damaging reboot. Wolverine, albeit being around for decades, has actually changed and grown over the years. The idea of progressing a character from being a smart assed resident of Xavier's School who walked out of training sessions because he didn't want to jump through "Charley's hoops" to a character who takes on the role that Charley made famous is simply the type of character progression that we just don't see in the realm of mainstream superhero comics these days. Kudos to Aaron and Marvel Comics for allowing this to happen. Also, kudos to whoever, most likely Aaron, for coming up with the idea of calling this new school for mutants the Jean Grey School for Higher Learning. What a great idea, that is until Jeannie makes her inevitable return to the realm of the living…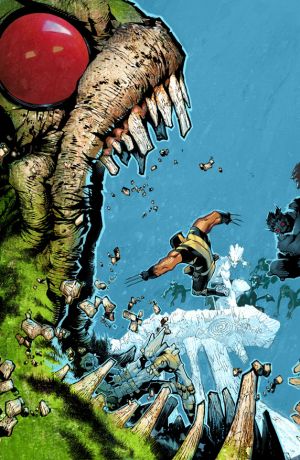 Wolverine and The X-Men
#1 is packed with Aaron's signature humor, although it's much more tame than it was is the early pages of
SCHISM
. Hopefully, this title won't be considered a strictly tween and/or kid title (like the cartoon of the same name) and Aaron gets to cut loose a little with his own brand of smart assed humor and satire. We don't need dirty jokes or anything, but some of that socially conscious satire that Aaron brilliantly slides in unannounced will really liven this series up over time.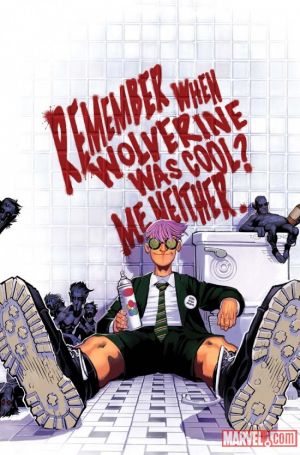 Coolest X-book cover ever? Totally...
Artistically, Bachalo is one of those types that you either love or hate. I'm sort of in the middle here, since I really, really fondly remember his work back in the early 1990s on the Neil Gaiman
Sandman
spin-off miniseries about Morpheus' older sister Death, but I really didn't feel that his style captured the world of the X-Men very well when he was on
Generation X
. He definitely has his strengths though, and coming up with some really funny, scary, and out right outrageous facial expressions is one of them. This skill will very nicely, and lively, portray the wacky teenage emotions of a group of mutant kids at school. He's also not bad at coming up with some horrifying looking monsters and bad guys too. I'm sure that this talent will be put to good use herein as well.
Overall,
Wolverine and The X-Men
is everything I anticipated, and I anticipated a great deal. I've been really, really wanting to read a series that effectively portrays the dynamism inherent in Wolverine's character and is set at a "School for Gifted Youngsters" and
Wolverine and The X-Men
delivered both of these things very excellently…at least for one issue.
Rating: 9 /10
Last Updated: May 19, 2020 - 12:25