Transformers Continue to Roll Out
By Randy Herkowitz
March 30, 2008 - 10:21
The Transformers toys have a rich and long history, over 25 years to be exact. The Transformers started from several Japanese action figure series' in Japan that were integrated together in the United States for Hasbro Toys and just grew into one of the most popular boys' toy lines ever!


Throughout the years there have been many different incarnations of the popular brand, some more popular than others. However, nothing could top in sales of last years high grossing Transformers live action film and the toys that went with it. So, where does Hasbro go from here, back to basics, sort of?
Hasbro toys partnered with The Cartoon Network for an American animated series. The show itself is more like the one most beloved from the 1980's with many of the most popular characters such as Grimlock,
Optimus Prime
and Bumblebee returning along with some new faces such as Bulkhead & Lugnut. What really sets this animated series apart from any Transformers shows of the past is the contemporary anime style. The characters are much more animated in facial expressions and humorous yet providing more than enough action expected by Transformers fans.
So what about the toys? The toys must have been an incredible challenge for Hasbro and Japanese sister company Takara to design and engineer. Their goal was to keep the toys likenesses as much like what you see on your TV screen and I must say, they have done a fantastic job! The toys really do look like they jumped off your television screen and transform to look this way in both (vehicle and robot) modes.
This new series of Transformers is quite a departure design wise from what we've seen in the past. When I sat in the large auditorium at the 2007 Botcon Transformers convention where they first revealed pictures of both the cartoon style drawings and their translation into toys, I was in a bit of a shock. I wasn't sure if I liked it or hated it. This is coming from a fan of the more realistic style robots and vehicles (I'm an
Alternators/Binaltech
junkie). Alternators were a series of realistic motor vehicles that transformed into highly detailed robots. Nevertheless, I remained open minded and would wait until I watched the show or played with the toys first hand to pass judgment. I think ultimately I was so distraught about the announcement of the Alternators line ending that I was not in a place to embrace anything new.
As of now, the Cartoon Network has shown a dozen or more episodes of the Transformers Animated series and I've been able to wake up early enough to catch only a few of them and have enjoyed everyone I've watched. This show has really brought the characters to life by giving them depth to their personalities and the animation itself is rather smooth.
Most of the other Transformers shows featured human characters, as does this one. However, the humans don't seem to be quite as much of an annoyance and distraction as in previous series. Actually most of them are rather endearing and add additional personality to the animated series.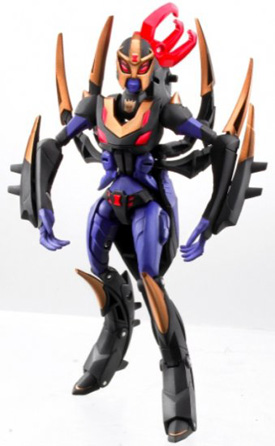 Now I just await the release of the toys. From all the pictures I have seen, I have really grown to embrace the new direction Hasbro has taken and don't worry if you don't find the animated series to your liking, because Hasbro will continue to offer other Transformers products such as "Transformers Universe" which leaves off where last years popular "classics" line homage to the original Generation One series left off. Also, it appears that Japan will be continuing the Binaltech brand along with their magnificent Masterpiece series (Grimlock is rumored to be the next Masterpiece action figure). The great thing about the Transformers universe is there is plenty of room for growth and experimentation and I commend Hasbro for their risk taking and believe it will pay off.
Last Updated: September 6, 2021 - 08:15