Transformers: Rise of the Beasts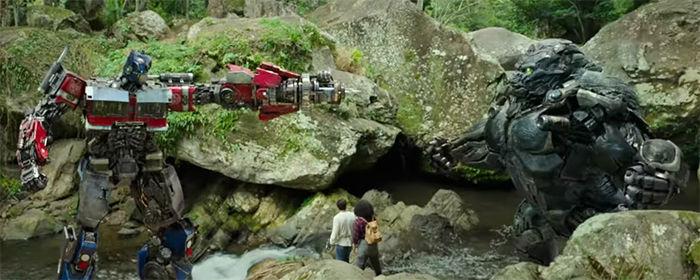 By Hervé St-Louis
September 6, 2023 - 20:40
Unicron nears Earth and thus sends his emissary Scourge and his Terrorcons to find the Transwarp key which will allow him to travel in the past and the future so that he may consume any world at any moment. The Maximals, an offshoot of the Autobots protect the key but soon its reappearance on Earth alerts both Optimus Prime and his troops as well as the Terrorcons. Will Autobot Mirage and human buddy Noah Diaz (Anthony Ramos) be able to protect the key from Scourge and his Terrorcons who seek to terraform Earth on behalf of Unicron?
If the Transformers' Bumblebee movie was the great transforming hope for the Transformers' franchise following the Micheal Bay series of films, I wonder what this one was as it is another attempt by Paramount to relaunch the characters with another soft reboot. Rise of the Beasts is attempting the same feat that did not quite work the first time, while adding the spectre of a Hasbro cinematic universe and bringing a little used Autobot as its main hero.
Mirage, usually a Formula One car is everything Autobot Jazz usually is but for the name and rank within the Autobots. While I enjoyed his characterization here, this is not the old aristocrat Autobot unsure of their cause. Yet, it worked, and Mirage delivered iconic lines "you've been inside of me!" that just added to the unique Transformers' comedy element. Like most Transformers' movies, I wish that there were less humans and more robots in the main roles. Except for Sam Witwicki in the
first

Transformers

' movie
, as played by Shia LaBeouf, all other humans have been forgettable to me.
The movie was good, but apparently, it may not be the one to save the franchise, once again.
Last Updated: September 30, 2023 - 02:25