Comics / Comic Reviews / Marvel Comics
Thor the Mighty Avenger #7
By Hervé St-Louis
January 1, 2011 - 15:57
Someone from Thor's past has sent an army of giant robot after him to capture him. But Thor is not easily subdued. But will he be able to contain the damage done to the city by the mechanical monstrosities created by a duo of mad scientists that look like the Professor and Beaker, his lab assistant?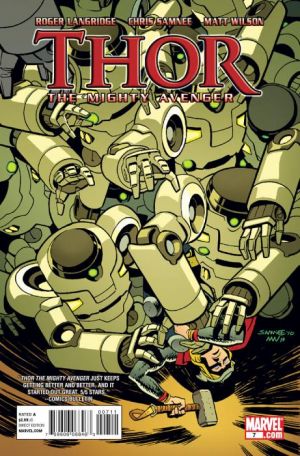 I like the Muppets' look a like a lot. The joke is not very strongly hinted at, but it's there, if you know where to look. It's this type of puns that makes this series so enjoyable and makes it so aggravating that the series is being cancelled by Marvel Comics. It's easily one of the best series from the publisher in 2010. I like how Thor and Jane just got lost while on a romantic dinner and failed to see what was happening around them until it was too late. I really like how Thor and most characters smile so much. I understand this kind of comic book is not for everyone. Many want to see more hardcore action and more angst. But this series is just a pure bag of joy and makes someone like Thor, who's always been so distant and difficult to relate to just a nice guy. If you still haven't tried this series, please, do before it goes away. It's one hell of a classic Thor story.
I'm tired of praising Samnee every issue. I can't say anything negative about his work. I can't ask him to improve on anything. For what this comic book is about and what he's supposed to do, there's little I could suggest. That's rare that a comic book is so perfect, that there's nothing to say about it. I guess the weakest part is the cover. It's not the best, but everything inside just flows. Something else that has to be commended is how Samnee draws a one page recap of the entire series, instead of just relying on a text blurb. I wish more comic books would adopt this formula.
Rating: 10 /10
Last Updated: January 24, 2022 - 11:00