Comics / Comic Reviews / Marvel Comics
Thor Annual #1
By Hervé St-Louis
September 21, 2009 - 21:39
The Egyptian gods have been waiting for Thor to suffer from somekind of weakness before returning a favour and taking him out once and for all. So they plot this plan to go meet him in his secluded mountains and defeat him. Meanwhile, Thor, having recently killed his own grandfather is afraid of his power and prefers to stay away from civilization. Will the Egyptian gods succeed in defeating the Norse god?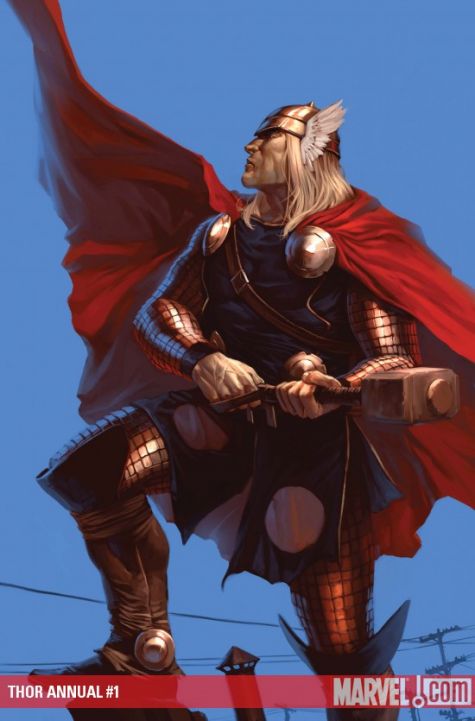 Annuals were once reserved for special stories that could not be told elsewhere. I'm not sure about the purpose of this annual. It could have fitted neatly in the regular Thor series. Speaking about the regular Thor series, when was the last time one of its issue came around? Still the story was interesting and if the writer or anyone else wants to pick up on this at another time, these villains will make for interesting opponents to Thor. My one question is whether the Egyptian gods were awaiting Thor's moment of weakness even when he was functionally dead. I mean, if your archenemy just died, why hold a grudge against him? And if he came back from the dead, would you still hold a grudge?
For some reason Grindberg reminded me of David Lapham's work on the old Valiant comic books. This book really had a Valiant feel to it, but with a different colour scheme. But that's not a problem for this reviewer and he rendered Thor and Donald Blake quite well this issue. The backgrounds drawn are all detailed and add to the context of the story.
Rating: 9 /10
Last Updated: January 24, 2022 - 11:00