Comics / Comic Reviews / Marvel Comics
The Invincible Iron Man #26
By Andy Frisk
May 19, 2010 - 20:13
The Hammer girls (Justin Hammer's daughter and granddaughter) sell old Stark Industries weapons to questionable Middle Eastern buyers, and Tony gets into a partnership with a former employee while still wrestling with his past actions (many of which he still can't remember-like Civil War-due to his brain meltdown and reboot). Along the way, we readers pick up a few more tidbits about his new armor and how it works…Meanwhile; Spymaster is recruited into the corporate war against Tony.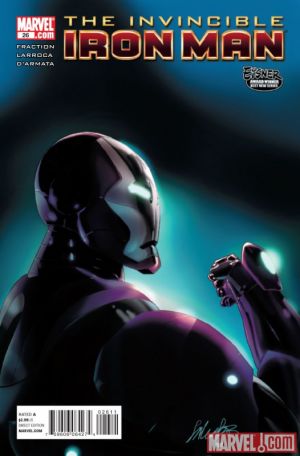 Lots of set up, soul searching, reassessing of past actions, and formulation of future plans dominate The Invincible Iron Man #26. Part Two of Resilient, "Visionary Men" goes to great lengths to show the human failings of Tony Stark (mostly related in his own words) in order to show and contrast his current dedication to self improvement and the greater good. Again, we're seeing nothing new here by way of storytelling on writer Matt Fraction's part. That isn't to say that Resilient isn't shaping up quite nicely as a story. It's a story more suited to newer readers though. Long term Iron Man fans have been treated to a bevy of these types of tales before, including ones focusing on Tony Stark's failings and redemptive actions.
Artist Salvador Larroca continues to pencil the character and setting he was born to recreate visually. Larroca's highly realistic and techno-detail filled panels suit The Invincible Iron Man like very few artists would. The detail and realism he puts into Stark tech and Tony's new Iron Man armor is just as strong as the detail and realism he puts into his biological subject's faces and expressions.
The story is moving a long, and little details behind Tony's new armor are starting to leak out, but again Fraction and company aren't exactly breaking storytelling ground here. It's a good story though, and worth revisiting. Hopefully, we'll get to some real action soon. With War Machine slated to appear next issue, we most likely will.

Rating: 7 /10
Last Updated: May 19, 2020 - 12:25