Comics / Comic Reviews / Marvel Comics
Invincible Iron Man #30
By Colin Andersen
September 15, 2010 - 19:57
Now this a little more like it. I have read every issue of Matt Fraction's Invincible Iron Man and have really enjoyed it. I was particularly excited for the current "Stark Resilient" arc as Tony Stark Received his new armor (and just in time for his second movie to premier!). However, Fraction has mostly left me bored since the arc started. Tony did indeed get his new armor early on, but did almost nothing with it. I am not the kind of comic reader that needs my comic books to be fast-paced and action-filled (just see my Irredeemable reviews for proof of that). Invincible Iron Man, however, has been just moving way too slow and, while the plot definitely has been moving forward, it seemed to be taking its sweet time doing so. I honestly think the past five issues could have been squeezed into two or three and it would have made the series much better.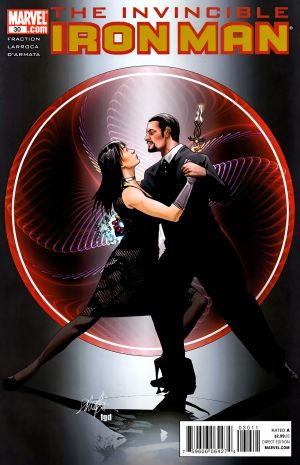 Luckily, issue #30 finally starts to move the plot forward in a much quicker fashion and it makes for an infinitely more entertaining read. The issue starts with Tony and Sasha Hammer, one of the chief antagonists of the arc and girlfriend of Ezekiel Stane, the series' first villain, going for a high-speed conversation. There is some great dialogue in this scene that manages to flesh out both characters and help us show who they are. Tony himself gets some great lines in that show how much Fraction really understands the character. There some unnecessary innuendo that I didn't care for, but some would say that's in character so it didn't bother me much. This talk leads in to the first real fight of the arc and it's pretty impressive. We FINALLY get to see just what Tony's new suit can do and it really gives Iron Man some much needed re-invigoration that make the Iron Man suit seem like modern force to be reckoned with. Even Pepper Potts gets in on the action briefly and it is all good fun.
That being said, not all of the plot worked for me. There is still a lot of unnecessary talking that could have been taking out and I'm not completely sold on the villains plot just yet. They say that they are not around to destroy Tony, but to instead embarrass him and let him suffer, yet they immediately try and kill him after that. Also, the whole plot of unsuspecting citizens helping the antagonists further their goals through an iPhone app just seems ridiculous to me. It feels like Fraction is trying to be too "hip" and modern with this idea and it falls flat for me. Then again, this whole series focuses on the future and its futurist main character, so I suppose the plan fights into that theme nicely, so your mileage may vary. The uninspired "twist" on the last page didn't do anything for me either and just felt horrendously clichéd and I know Fraction can do better than that. These problems don't stop the issue from being a solid read, but they did annoy me.
I am so tired of saying this, but Salvador Larocca's art continues to the weakest link of
Invincible Iron Man
. Luckily, he is given more to illustrate than just talking heads this issue and once the characters get in armor and start fighting, the art takes a noticeable hike up in quality. If there is one thing Larocca can still draw, it's suits of Iron Man armor; they just look great and command a real sense of power. If he could just work of his faces and making his people look more, well, human, the series would be much better off. I know he is capable of it because, once upon a time, he drew some of the best characters in comics and he is still one of my favorite artists ever on
Fantastic Four
. Larocca also needs to get a better inker because every character has this strange, murky quality to them that makes their silhouette not seem quite right. Everything looks unfinished and slightly blobby, for lack of a better word, as a result. Fixing this problem would go a long way toward improving the visual quality of the book. Hopefully, this issue signals the coming of more screen time for the Iron Man suits and the art will improve because of it.
Invincible Iron Man
is a great book that I'm forced to call "merely" good. It has so much potential but little things that should be easily fixable keep popping up and bringing the series down. This was the best issue in half a years and I'm hoping that's a good sign for the series as a whole. This series deserves to be great and it is so close so I want to see Fraction and Larocca to go that extra mile and get it there. I still recommend that everyone read this series, but I certainly would not blame anyone for waiting for the trade paperbacks.
Rating: 7.5 /10
Last Updated: January 24, 2022 - 11:00