Comics / Spotlight / Religion and Comics
The Great Vegas Comic Book- Thai Buddhism
By Hervé St-Louis
March 4, 2012 - 22:59
This graphic novel continues The Comic Book Bin's exploration of Thai comics. Here we are presented with Prince Vegas who as a young and pampered prince meets Buddha in the forest one day after escaping from the care of the royal staff. In the forest, he is amazed by the piety and dignity of the monk. As a young adult, the prince and his wife to be make a pact and decide to seek perfection themselves and to become monks.
This story is meant for kids to educate them on Vegas' life. It is part of a series of books on the same topic that have been released by the same creative team and publisher. The story has a heavy narrative feel although I must admit that not being fluent in Thai script, it is not easy to write that. There are a lot of captions which describe the story. Only a few captions are actual live dialogues or thoughts bubbles.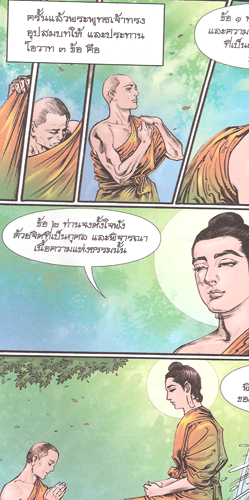 Yet, the creators have tried to break up the story with some funny passage to help in the transmission of the learning with readers. Remarkably, although there is a language barrier, I was able to understand much of the story thanks to the strong storytelling and visuals. The artwork is pretty clear. For example, there is a passage where the prince monk looks as villagers try to burn the body of his betrothed princess monk. Every time the fire is lighted up, it dies. Only after the prince monk has meditated and prayed, was an instantaneous fire flared up and burned the body.
This comic book is an important vehicle to transmit religious culture to a new generation. So it has a strong didactic feel and a solemn feel. Books in other cultures about religious contents often such a feel. Hence, the figures of the prince and his princess are perfect and beautiful. Other characters with moral flaws are illustrated as such so it is very easy to figure out their characters.
The line work reminded me of some comics from India that I have read before. It is what I would call proto-manga artwork. It feels like a manga, but with the linear quality of an American comic book. It's as if the creators are trying to appeal to the visual preferences of their audience, while not completely being able to render the artwork as stylized as Japanese cartoonists or manga-ka. Another important detail that I noticed was how the characters' facial designs and the colouring of their skin looked far more Caucasian than Asian.
Other cultures do that too. In the case of the Japanese, it's been established that the non-Asian looking characters are in fact Japanese and perceived as such by Japanese audiences notwithstanding their blue and blond hair, their blue eyes and wide eyes. I'm not sure if this is a similar convention in Thailand. One thing is certain, the characters in this comic book did not have the typical Thai look or skin tone colours.
Like other graphic novels from Thailand the format is a pocket book format with a soft cover and fully coloured interior artwork, unlike the black and white of Japanese manga. Based on this graphic novel and the one reviewed before, once could determine that Thai comics' productions are still emerging and focused on telling core stories about their histories and religion, as is often the case in countries breaking in into comic book production. They start by publishing stories that matters to their culture. Fortunately, I discovered the equivalent of a Thai comic book alternative scene. We'll explore that in our next article.
Last Updated: August 31, 2023 - 08:12