Let's Comic – The New Voice of Thai Comics
By Hervé St-Louis
March 11, 2012 - 15:15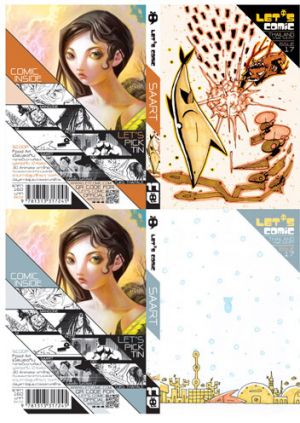 The two variant covers and their back covers
So far in our exploration of Thai comics, we've looked at what should be considered an historical comic book in Thai culture – the Ramakien painting in the Grand Palace in Bangkok. We've looked at a comic book for kids that was part of a biopic of Rama IX of Thailand. Finally we've explored a religious comic book also meant for younger readers. But what about comic books for the average reader that's not meant as an educational aid or is not a historical artefact? Is there a comic book scene in Thailand? The good news is yes there is. Much of the energies of that scene is centered around an anthology called
Let's Comics
which is operated by the Thailand Comic Society.
The Let's Comics anthology is available in newsstands and bookstores throughout Thailand. It was started by a group of friends and students. The first three issues were published marginally and more as a hobby. Following the admission of some of the students in the Faculty of Arts and Design of the Ladkrabang Technological University, and the passing of one of major contributors, the series was reformatted with new inputs from the university's resources and new professional supports. In 2007, the first comic book became a monthly magazine and the letcomic.com Website was created to support the series' marketing.
Currently, Let's Comic is published in a pocket book format about every two months. The mission of the anthology is to push comic book production in Thailand.
I got myself
Let's Comic #17
which should be the latest issue at the time of writing. It's a 250 page black and white anthology that contains seven stories, some of which are continuing from previous issues. Although the comic book pages themselves are black and white, there are many inserts such as ads and painted pin up galleries from an interview of a local animator that are in colour. The comic book also contains articles about comic books animation and action figures outside of Thailand and about collectibles readers can buy locally.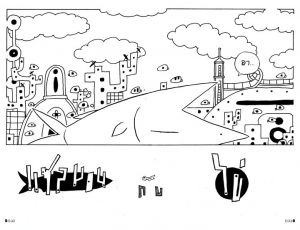 Stories in the anthology cover several different genres. For example, the first story is a minimalist one about a fish which we witness growing up from an egg into a gigantic creature the size of a city that eventually protects its home world from areal invaders. The story is surreal with a guy constantly talking to the giant fish with a speakerphone, instructing it about what to do next. The art is reminiscent of Lewis Trondheim but more kinetic and lively. A major difference is the constant use of silhouettes for some characters and visual elements. It works.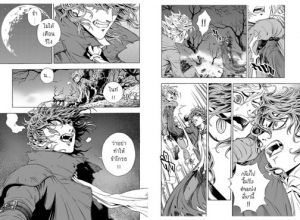 King of Vampires
The next story is more aligned to what one would expect from Japan. It's a manga-like story called the King of Vampires with a vampire fighting his way through hordes of opponents and training a pupil. This one will seem more familiar to Western readers as it uses stock manga character types and even ends with an English note that says "To be continued." What's interesting is that unlike the other story which is really unique visually, this one has all the trappings of a story that wants to impress potential foreign readers or impress upon the local readers that it is as good as what's available overseas.
To some extent, the next story, the Bald Ranger, about, of course a retired Muay Thai boxer that fights thugs, has the same trappings. English titles and words next to a text that's completely written in Thai. The one difference, of course is the artwork which is blockier, although it is also influenced by manga art.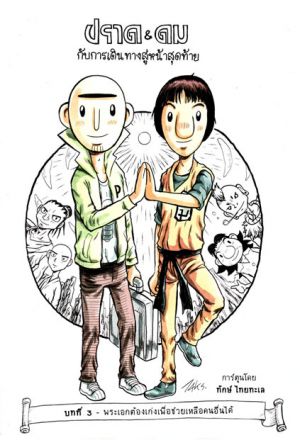 In the other stories, the most interesting one was by this strip by Tuks Thaitale. Unfortunately, I'm not able to translate the name and title of this comic book at the time. It features a story about a traveling martial artist that gets ambushed in a mountain range. Of course he defeats his opponents, but more wacky stuff happens and more characters are introduced to add more layers to the plot. The art seemed child-like at first with often the characters' fist not fully drawn. But the artist does know how to draw hands. He just uses shorthand whenever he can get away with it. And that's how his artwork is in this series. He simplifies drawings, but puts more emphasis on the motion and actions of the characters.
An interesting part of Let's Comic #17 is how it has feature articles on many topics related to comic books, animation and action figure collecting. In most current North American anthologies, such related articles are no longer available as it's assumed readers will get their information from dedicated sources from the Web. Here, it acts as a community service and informs readers about contents that while they may have access to from the Web may not be all that easy for them to translate or find.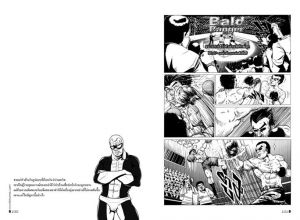 Bald Ranger
The main difficulty I had with reading Let's Comic has to do with language. If I could read Thai script, I would probably enjoy the book more. And this is where it becomes important for readers outside of Thailand to discover the new stories exposed frequently in new and past issues of Let's Comic. Some of those creators are ready to work on non Thai projects. Others have work that's good enough and universal enough to find the right audience outside of Thailand.
In the last article of this series, I'll discuss the overall state of Thai Comics and write about its history. Find out more about
Let's Comic
Image Gallery:

Last Updated: August 31, 2023 - 08:12