The Girl Next Door from Anchor Bay
By Al Kratina
January 16, 2008 - 19:23
The Girl Next Door
2007, USA
Directed by Gregory Wilson
Written by Daniel Farrands, Philip Nutman, Jack Ketchum (novel)
Produced by William M. Miller, Andrew van den Houten
Starring Blythe Auffarth, Daniel Manche, Blanche Baker, Graham Patrick Martin
Genre: Drama, Horror
Distributor: Anchor Bay/Starz Home Entertainment
Website: http://www.thegirlnextdoorfilm.com/
Rating: Rated R for sadistic torture and sexual abuse, nudity, language and strong sexual dialogue - all involving children.
Running Time: 91 minutes
While working at a restaurant, I once used a blowtorch to crisp up a crème brûlée. While I'm not sure the experience of holding a flame to a large slice of caramel coated custard is analagous to burning out a pre-teen girl's genitals with flaming acetylene, images of the former flashed through my mind as I watched scenes of the latter in The Girl Next Door. Now, I never want to see a French dessert ever again, and I'm not too sure how I feel about genitals.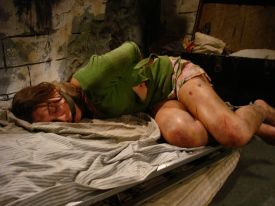 I do, however, know how I feel about The Girl Next Door, and that's kind of sick to my stomach. The film is based on a 1989 novel by underground horror author Jack Ketchum (see the Bin's interview with Ketchum here), which in turn was inspired by the true story of Sylvia Likens. The fact that a story such as this could have actually happened is revolting, and the brutal, unflinching intensity with which it is presented here makes the film all the more difficult to watch. The Girl Next Door begins innocently enough, with flashbacks to a middle-aged business man's childhood. But it soon becomes apparent that while David Moran, played by William Atherton as an adult and Daniel Manche as a child, grew up in The Wonder Years, he lived beside to the moral equivalents of the demented retards from The Hills Have Eyes. When Meg and her sister Susan move in to stay with David's neighbour Ruth and her three sons, David becomes a passively complicit witness to a downward spiral of torture and abuse that soon involves the entire neighbourhood's children. In examining issues of voyeurism and the true nature of evil, The Girl Next Door is a powerful, gripping, and gruelling film. It's full of shocking scenes handled without an ounce of sentimentality, that still manage to tug heart strings and tear out the viewer's inside with almost violent pathos.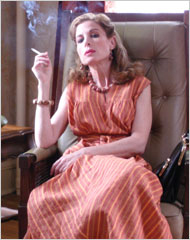 Which is not to say that it's a perfect film. Though Manche and Blythe Auffarth, who plays Meg, turn in surprisingly realistic performances, poor over-dubbing occasionally breaks the tension. A visibly low budget and an ending that feels forced and unsatisfying also drain the film of some of its power. However, Blanche Baker's portrayal of Ruth's descent into insanity is truly harrowing, regardless of whether or not she sounds like she's in an imported Italian film. And most impressively, director Gregory Wilson presents the shocking events without relying on horror movie conventions, giving the film an even harder, unpredictable edge. The script, by Daniel Farrands and Philip Nutman, is well-written and strongly structured, staying close to the novel, but softening David's character, providing an easy entry point for the viewer into Jack Ketchum's house full of horror and delicious crème brûlée.
Rating: 7 on 10
Last Updated: January 24, 2022 - 11:00