Tactics Box Set - from Anchor Bay
By Al Kratina
March 4, 2008 - 19:38
Tactics Box Set
Japan, 2004-2005
Directed by Hiroshi Watanabe
Written by Sakura Kinoshita (manga), Kazuko Higashiyama (manga), Kanemaki Kenichi (screenplay)
Starring: Koki Miyata, Takahiro Sakurai, Tomoko Kawakami, Marina Inoue
Genre: Fantasy
Rating: Not rated
Running Time: +- 600 minutes
DVD distributor: Anchor Bay/Starz Home Entertainment
Website: Buy it here
It's easy to pigeonhole anime. And it's fun, too, because jokes about tentacle rape and giant robots never get old. But once in a while someone throws a monkey wrench into the machinery that churns out my lead paragraphs, and Tactics is one of those wrenches.
Released by Anchor Bay/Starz Home Entertainment, Tactics contains no mecha battles, and though it features frequent demonic attacks, precious few surrogate genitals creep up anyone's skirt. Instead, the 25-episode series is light without being silly, and manages to build relatively complex characters. Based upon the manga by Sakura Kinoshita and Kazuko Higashiyama, the story revolves around Kantaro, a writer and exorcist-for-hire. As a fellow freelancer, I fully understand the Kantaro's trials and tribulations, as he struggles to meet deadlines and tries to feed himself, though I would argue that it's considerably harder to sit through a press screening of Transformers than it is to conquer an ice demon. Kantaro was born with the power to see demons, and has spent his life searching for a particular type of spirit, known as a 'tengu', that eats other spirits, like an ectoplasmic Jeffrey Dahmer. And, like Dahmer, the tengu is creepy, weird, and spends way too much time quietly brooding, which Kantaro discovers when he finds the demon during the first episode. The uncomfortable relationship between Kantaro and the tengu forms the basis of the series, and though it doesn't end with Kantaro lobotomised with muriatic acid and half-eaten in a bathtub, their emotional growth does provide enough forward momentum to tie the episodes together.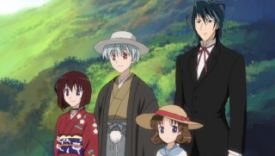 And that's essential, because Tactics follows a villain of the week format, like a haunted Law & Order spinoff. But if the character arcs aren't enough to hook the viewier, the visuals might be. On an aesthetic level, Tactics further distinguishes itself from other anime by developing a delicate painterly style. While the main characters still exhibit the angular composition associated with manga and anime, many of the backgrounds look almost like watercolours, as if the entire French impressionist movement immigrated to Asia to work for hourly rates in animation studios. Instead of blending with the anime pack, Tactics stands out with its beauty, and is always interesting to look at. Though I would have loved to see what Renoir or Monet would have done with a tentacle rape.
Rating: 7 on 10
Last Updated: September 6, 2021 - 08:15