Comics / Comic Reviews / DC Comics
The Flash #700 (#39)
By Hervé St-Louis
January 28, 2018 - 13:27
Gorilla Grodd is back and he haunts Barry Allen's thoughts. Grodd wants the speed force that powers the Flash because he is tired of humans wielding all power. It is time for his kind to wield it. Will Flash be able to defeat one of his oldest and deadliest foe?
I always like when Gorilla Grodd is around. He is one of the Flash's deadliest foe and one, because of his telepathy that is difficult to defeat. Grodd is not after money like the Rogues. He is after much more. It always feels like an encounter with the Grodd will change the Flash. He is the perfect villain for a milestone issue like the 700th adventure of the Flash. About that, DC Comics has performed some liberal numbering as purists would argue that most of the first hundred Flash Comics issues were not about the Golden Age Flash Jay Garrick but an anthology series that equally featured Hawkman as the main feature. Nevertheless, it would be fun if the publisher stuck to this numbering and ditched the Rebirth one.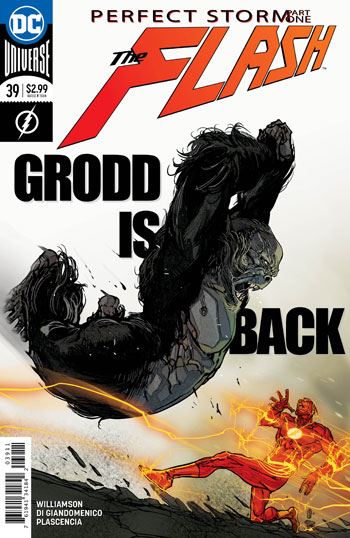 Joshua Williamson used the gimmick of Flash's unique narration device to frame his story. Every time Barry Allen says to himself "My name is Barry Allen, I am the fastest man alive" Grodd was listening in and trying to prepare himself to defeat Flash and gather intelligence on his opponent. That idea is silly. I never saw the narration Mark Waid introduced in the Flash comic over 20 years ago as something literal. It was expository and reflective but not meant to be taken as gospel. Narrated captions are different from thought bubble after all. They are a stylistic device, not word for word transcriptions of a character's thoughts. The rest of the story has great potential though.
I have written this before; it is always a good thing to see someone named Carmine drawing a Flash comic. Di Giandomenico is the perfect foil for Carmine Infantino. Their styles with elongated muscular limbs is very similar. Di Giandomenico is of course a much more current and dynamic artist but he is equally suited for the Flash. One thing that he does not do as much as the other Carmine, are multiple drawings of Flash doing things at super speed I one panel. Instead of that or speedlines, he likes to populate his panels featuring Flash with thunderbolt contractions.
Rating: 8 /10
Last Updated: August 31, 2023 - 08:12