Comics / Spotlight / Progressive Panels
The Filler Issue
By Andy Frisk
February 16, 2012 - 22:18
You know what they are. Some call them "one and dones." Some (like a fellow writer here at The Bin) call them the "inventory issue." I, along with many others, call them the "filler issue." They are those self-contained, one issue long stories that often touch on the main plot of a monthly book, but usually appear in between major storylines. They often focus on a certain character or characters, and sometimes they clean up old and dangling plotlines, expand the series' theme, or set up plot conflicts for future use. Sometimes a completely different creative team, as opposed to the current long running one, is used, but more often it is the series writer or creator who handles the writing with a guest, or returning, artist handling the penciling. The Big Two have taken to calling them "Point Ones, Point Fives," or some such nonsense, and billing them as the "Perfect Jumping on Point!" Ho hum… The titles, their creators, and artists who pull off the best filler issues don't need any hype or hoopla in order to garner attention to their work. In fact, some filler issues, meant to simply carry the title consecutively and uninterruptedly from one month to the next end up being the single issue that is better than most of the last years' worth of regular extended storyline issues. This was most recently the case with Abnett and Lanning's New Mutants.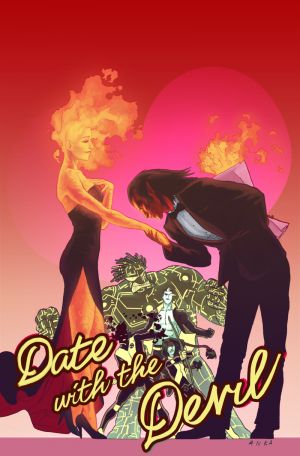 Granted,
New Mutants
, and their writers, were obligated to labor under the "Fear Itself" event for a good part of last year. Much of these issues had me skimming them, bagging and boarding them, and putting them away permanently. The series started to get back to normal, and Abnett and Lanning returned to telling the type of stories that make
New Mutants
, the title and concept, so compelling. The "next generation of X-Men" have always operated as a bit of a semi rogue group after breaking from Xavier some time ago. Technically, they are fully graduated X-Men, but always seemed to fall somewhere between the X-Men proper and the more flashy mutant teams like X-Force in relevance (and sales). They took on some really important missions, and just recently were granted their own charter by Cyclops and allowed to leave Utopia to settle in San Francisco. Team leader (and long term member) Dani Moonstar wanted her team to be closer to humanity, and live as normal a life as they can as "normal" humans. This development was a stroke of genius on Abnett and Lanning's part (or on the part of the editor that gave them this storytelling directive). With Cyclops' team isolated on Utopia and Wolverine's team starting up the school for higher learning back east, the New Mutants are actually attempting to live Xavier's dream in a more real way than either Cylcops or Logan's teams. They are out there, living side by side next to homo sapiens, and doing their best to use their gifts to defend them and themselves. This was the ultimate goal of Xavier's.
Anyway,
New Mutants
#37, while being a filler issue, ties up a plot device left dangling during the, as mentioned, recent (and boring) mandated "Fear Itself" storyline that ran in
New Mutants
. Amara, known as the mutant Magma, promised the lord of hell, Mephisto, (at his request) that she would go on a date with him if he would help her team get out of Hell and back into the fight (whatever fight that was-it's really not important-just the part involving the Amara and Mephisto's deal is). The devil finally comes calling in issue #37, and what the readers get is one of the best stories to grace the pages of
New Mutants
in several months. (See my
review
of this issue here for the full scoop.)
While I disparagingly remarked on The Big Two's recent attempt to capitalize on the filler issue, both have published some good ones recently. It would just make better sense, artistically not commercially, to let them happen organically like
New Mutants
#37 did, but nevertheless a planned ".5" issue of Mike Carey's
The Unwritten
was another brilliant filler issue. In this issue, one of the main (and incredibly long-lived) bad guys named Pullman, who represents part of the Cabal (a shadowy group of men who are trying to rule the world by controlling all the narratives, i.e. stories), leads Gilgamesh and an army of his men from Mesopotamia on a hunt for a creature that devours stories for sustenance. Yeah,
The Unwritten
is as esoteric as it is brilliant (it is one of the few books you
SHOULD
be reading), but this filler issue was one of the best issues of the series I read in quite a while. It is fully self-contained yet flushes out the mysterious character of Pullman quite effectively. It also engages in the type of metaphysical re-imagining of history and myth that Cary is so good at. One doesn't even have to have been reading
The Unwritten
monthly to enjoy, and get a full sense of, what this story is about. In that sense it is the perfect ".5" issue, I suppose.
The two issues listed above are just a few of the many examples of great filler issues that grace the shelves monthly at your local comic shop. While I prefer the "organic" ones, as I call them, however they are marketed, they are often well worth the read, and money. So, if these books and their stories are so good why aren't there more of them? The answer is simple. In the world of the monthly comic book the crossover event is king, even if they end up sucking most of the time. If more of the monthly comics could follow the trend that
New Mutants
was starting to just before "Fear Itself" took over its pages, then perhaps a new strand of reader could be attracted. Very obviously, a comic book's art is incredibly important to its success, but art is for naught if the accompanying story isn't worth reading (early 1990s Image Comics taught us that one). Perhaps that's why titles like
The Unwritten
, and the recently (and sorrowfully) cancelled
Northlanders
generate such rabid readers (speaking for myself at least).
The Unwritten
has a cast of characters who grow and develop over time, but whose adventures are sequestered in numbered and contained arcs that are enjoyable by themselves. Filler issues buffer storylines, flushing out the characters, attracting new readers, and tell some of the best one off stories over the course of the series. Then the series picks back up and tells the next arc of the overall story.
Northlanders
did this
even more brilliantly than
The Unwritten
does. Mega crossover events end up just frustrating fans, especially those who spend a great deal of money on titles that they don't normally read just to keep up with what's going on. Instead of throwing crossover after crossover at the reader, why don't the publishers, The Big Two in particular, focus more on telling some quality, more self-contained stories in their ongoing books and buffering these chapters with some more brilliant filler issues? Seems to make sense, eh?
Apparently it doesn't though. It seems as if we never will get the big publishers to change their business model from mega crossover event, for the sake of sales, to a focus on a quality storytelling model, for the sake of sales. On occasion, mega crossover events do work.
Civil War
was an example of this, but more often than not it is books like
The Unwritten
and
Northlanders
that succeed in telling the best stories. Unfortunately, these series don't always last long, either by design of the writers or the low sales figures. The best way to let the big publishers know that the organic filler issue as I call it, and the books that tell a solid story in chaptered segments, are the type of reads we want to see more of is to vote with your money.
Like music? So does Andy. Read his thoughts on it
here.
Last Updated: January 24, 2022 - 11:00