Comics / Comic Reviews / Marvel Comics
Spider-Man Loves Mary-Jane #3
By Zak Edwards
October 16, 2008 - 20:04
I'm now scared Terry Moore's run on Spider-Man Loves Mary-Jane, when asked as to what happened, the answer will be, "Nothing happened." The series is now officially over the half-way mark and there seems to be no real discernible plot. Not to say the series is still not enjoyable, Moore is thriving in the smaller, character-based series Marvel Comics has handed him. But this series, being a mere five issues long, seems to be headed towards a stopping rather than an ending.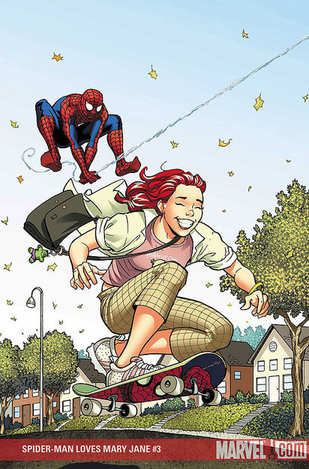 Moore, like writer Sean McKeever whom he replaced, is enjoying teasing readers with what exactly is happening between Peter and Mary-Jane. This time, the moment they share is interrupted by a rather boisterous thunderclap, which is different from the usual: Peter catching sight of something needing Spider-Man followed by "Aunt May needs (insert random grocery store item here)" and a dashing off into a random alley. But Moore is toying around with Peter's other life within Mary-Jane and teases readers with both the relationship budding between the two main characters and also Peter's identity being revealed. The story itself is entertaining, with Mary-Jane very much dealing with teenage melodrama without becoming too ridiculous. The drama of the "Limo Girl" from last issue comes to further fruition here but even these details which earlier would have been interesting and cool additions are now becoming points raising awareness of the little time left and what is being taken away from these additions. But the storm raging throughout the issue becomes a strange easy mode of controlling the story. It does bring a laugh, but mostly it becomes cliche. Hopefully this series will read better within the format of the digest destined to be released. But all this is taking away from the fact Moore has crafted a very enjoyable series, nailing characters and taking them further. He has been a perfect writer to follow up on a series blessed with a single author for so long. Stylistically similar but also different enough to not become a copycat but without too many changes to jar the reader. I still look forward to the next issues as they will be fun, I am certain of this at least.
Artist Craig Rousseau may be jarring for those used to the manga style of drawing usually associated with this series, but his pencils work perfectly. His art is expressive and a clear communicator with a focus on articulating the story over a showcase of overly sexualized characters that can ruin other series involving teenagers. I still need to be reminded Mary-Jane's best friend, Liz Allen, dyed her hair from blonde. Flash Gordon, Midtown High's resident hulking jock, also does look almost stereotypically apelike. Spider-Man's very brief action sequence shows off Rousseau's ability to handle both fights and conversations surrounding a lunch table. While some artists obviously excel at one, Rousseau handles both well.
7/10 Funny and enjoyable with an articulate artistic choice. Worrisome pacing issues.
Last Updated: September 6, 2021 - 08:15